Afghan Hound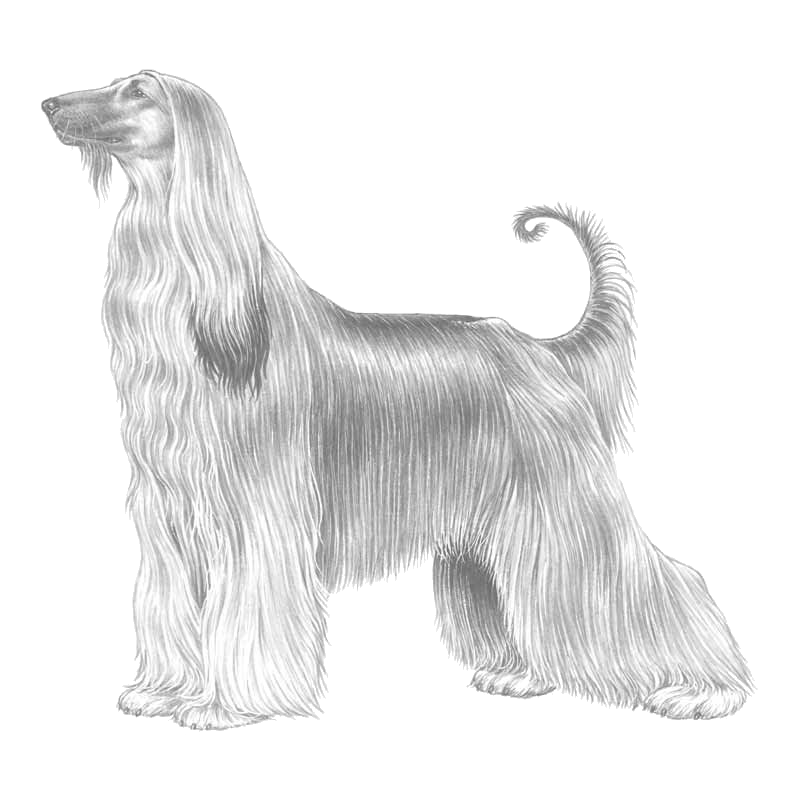 ---
---

Brief Description:

 

Glamour in the dog world comes in many forms but the Afghan Hound must be in the top ten of anybody's list. The first Afghan Hounds arrived in Britain in the early 1900s and one, called Zardin, won in spectacular style at the 1907 Crystal Palace show

Source: The Kennel Club

---

Links to Breed Descriptions:

 

In FCI, the Afghan Hound is under the Patronage of The Kennel Club, Great Britain

See: Kennel Club Breed Description

Also see The German Kennel Club (VDH) for video (if available).
(Hint: your browser should be able to Translate to English, at least for text (e.g., right click in Google Chrome or Internet Explorer).)

This and other breed videos are available in full length here.

 

View more videos on AKC's YouTube Channel

 

---

Other Names for Breed:

 

Afghanhund
Lévrier afghan
Lebrel afgano
Afghanischer Windhund
Afghansk Mynde

 

---

Country of Origin and Parent Breed Club:

 

 

 

---

Health and Well-Being:

 

Some sources of health information include:
National kennel clubs and breed clubs (see, e.g. Breeding/Health Strategy Documents, below)
Population-level statistics (see, e.g., Swedish Insurance Data, below)
Research articles
Breed club surveys
---
Breed-Specific Articles:
---
Breed Standards:
There are numerous breed standards.
The basis of breed/conformation shows is the judging of pedigree dogs against the 'Breed Standard', which is a picture in words that describes the range of features that are deemed appropriate for the breed.
Three of the major international standards are:
---
Breed-Specific Statistics:
1. Swedish Insurance Data
Breed-specific information on rates of disease and death from Agria Pet Insurance (Agria Djurförsäkring) is available for many breeds.
This breed has information on Veterinary Care and Life Insurance.
Click
HERE
for 2011-2016 the Agria Breed Profile for the Afghan hound.
2. Registrations Statistics
3. Finnish Kennel Club: Afghan Hound: Database Statistics
---
Breeding/Health Strategy Documents:
Health/Breeding Strategy Documents and Links:
The Kennel Club, UK: Breed Watch
Sweden: Breed-specific Breeding Strategies: (in Swedish) and/ or English summary
Finland - Afgaaninvinttikoiran jalostuksen tavoiteohjelma (PDF in Finnish)
Health Surveys
b. The Kennel Club
b.2) PDF: Report from the Animal Health Trust and The Kennel Club - Extended results of the Purebred Dog Health Survey for Afghan Hounds
Katy M. Evans BVSc CertVA MRCVS
Jeff Sampson BSc PhD
© Animal Health Trust
    Dr Kimberley J Mackenzie, Breed Council Breed Health Coordinator
"The Afghan Hound Breed Council conducted a breed health survey in order to ascertain the current health status of the Afghan Hound in the United Kingdom.  The survey sought to gather information on Afghan Hounds owned in the UK between 2004 and 2014.  The survey was available on-line for one year from March 2014 to March 2015.  The information was provided by owners about their dogs on an anonymous basis.  The survey yielded information on 682 Afghan Hounds, which is the largest ever study of the breed in the UK. "
---
Breed-Specific DNA Tests:
The Kennel Club list of DNA tests available for each breed along with an indication as to whether the test is part of the Assured Breeder Scheme (recommended or required) and whether it is recorded on the Kennel Club registration database.
---
Other Breed-Specific Webpages:
Afghan Hounds International Pedigree Database
Currently (7-8-2020) has 281418 Afghan Hound pedigrees and 36486 pictures in the database.
"The site contains a wealth of resources including breed standards, show results and calendars, breed information including health information and of course the Pedigree database which is an invaluable tool whilst researching breed history."
Databases:
Collection of the breed from the earliest imports to the UK.
---
Breed-Specific Research:
---
Breed Clubs:
We are listing sites for breed clubs with health or other information that might be helpful. Follow links below.
Scotland: Afghan Hound Club Of Scotland
UK: Afghan Hound Association
USA: Afghan Hound Club of America
---
---
User Feedback