Italian Greyhound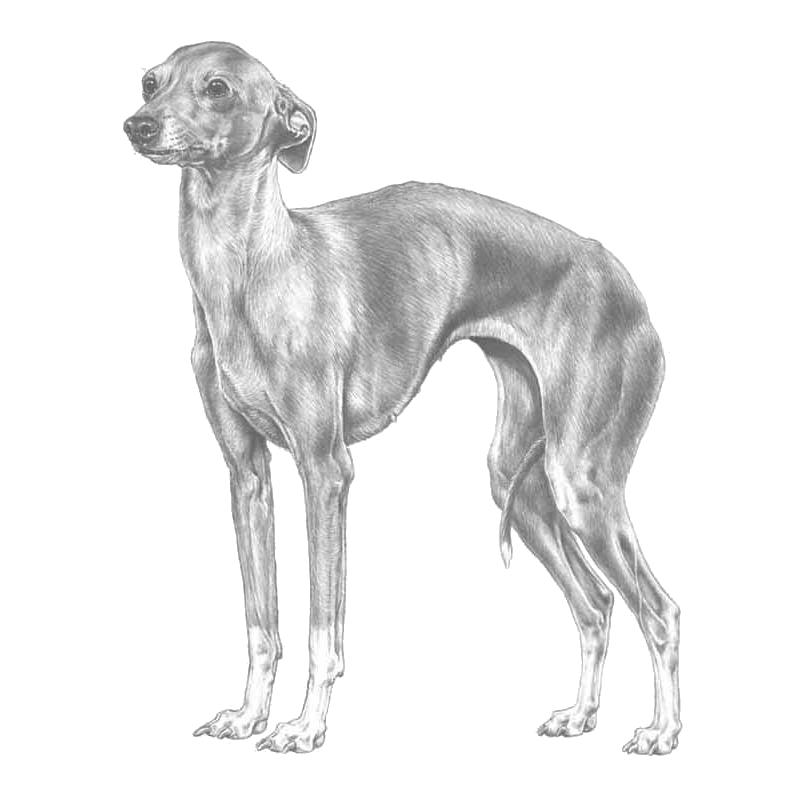 ---
---

Brief Description:

 

The Italian Greyhound (in Italian: Piccolo Levriero Italiano) is a small breed of dog of the sight hound type, sometimes called an "I.G." or an "Iggy".

---

Links to Breed Descriptions:

 

AKC Video (link - https://youtu.be/wQfC0uEUfjU):

View more videos on AKC's YouTube Channel: https://www.youtube.com/user/AmericanKennelClub

---

Other Names for Breed:

 

Italiensk vinthund
Italian Greyhound (Piccolo levriero italiano)
Piccolo levriero italiano
Levrette d'Italie
Pequeño Lebrel italiano
Italienisches Windspiel
Italiensk Mynde

---

Country of Origin and Parent Breed Club:

 

Italy

---

Health and Well-Being:

 

Some sources of health information include:
National kennel clubs and breed clubs (see, e.g. Breeding/Health Strategy Documents, below)
Population-level statistics (see, e.g., Swedish Insurance Data, below)
Research articles
Breed club surveys
---
Breed-Specific Articles:
Health articles are available from The Italian Greyhound Club of America

. 
---
Breed Standards:
There are numerous breed standards.
The basis of breed/conformation shows is the judging of pedigree dogs against the 'Breed Standard', which is a picture in words that describes the range of features that are deemed appropriate for the breed.
Three of the major international standards are:
---
Breed-Specific Statistics:
1. Swedish Insurance Data
Breed-specific information on rates of disease and death from Agria Pet Insurance (Agria Djurförsäkring) is available for many breeds.
This breed has information on Veterinary Care.
Click here to view downloads
---
Breeding/Health Strategy Documents:
Health/Breeding Strategy Documents and Links:
The Kennel Club, UK: Breed Watch
Sweden: Breed-specific Breeding Strategies: (in Swedish) and/ or English summary
Finland
US: Genetic Diversity in Italian Greyhounds: http://italiangreyhound.org/index.php/ig-health/genetic-diversity-in-italian-greyhounds/
Links to articles and other IG health resources and information including including genetic disease studies and health testing.
Health Surveys
US: 2012 Italian Greyhound Club of America/VARI National Health Survey
          Report of a Survey on Health Problems in Italian Greyhounds
---
Breed-Specific DNA Tests:
The Kennel Club list of DNA tests available for each breed along with an indication as to whether the test is part of the Assured Breeder Scheme (recommended or required) and whether it is recorded on the Kennel Club registration database: http://www.dogwellnet.com/content/_/health-and-breeding/screening-tests/dna/dna-tests-for-use-in-breeding-decisions/the-kennel-club-breed-specific-dna-tests-upd-r234
---
Other Breed-Specific Webpages:
---
Breed-Specific Research:
A search for genetic diversity among Italian Greyhounds from Continental Europe and the USA and the effect of inbreeding on susceptibility to autoimmune disease
(Full article available on BioMed Central -- Canine Genetics and Epidemiology) 

Excerpt...
"Conclusions
It was concluded that artificial genetic bottlenecks have concentrated numerous genetic polymorphisms responsible for autoimmune disease and that these risk factors did not originate in a specific individual or bloodline of the breed. Rather, they were of ancestral origin in both purebred and random bred dogs and inherited by descent. Italian Greyhound breeders in the USA have several options to improve breed health: 1) breed against homozygosity within the genome and in the DLA region, 2) avoid breeding dogs that have suffered an autoimmune disorder, 3) increase diversity by incorporating the genetic differences that exist in IG from Continental Europe, or 4) outcross to other small sighthound breeds. The latter two approaches must be undertaken with care to avoid introduction of new deleterious traits and to maximize retention and dissemination of new genetic diversity."
---
Breed Clubs:
We are listing sites for breed clubs with health or other information that might be helpful. Follow links below.
UK: The Italian Greyhound Society UK: Health page: http://www.italiangreyhoundsocietyuk.com/23342798
US: The Italian Greyhound Club of America: http://italiangreyhound.org/
---
---
User Feedback