IPFD DogWellNet Logo (white background) 1.0.0
---
About This File
For use in applications promoting both DogWellNet.com and IPFD (where emphasis is on IPFD).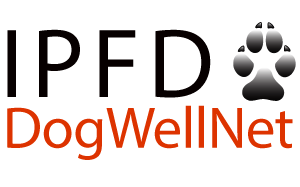 ---
Decision leaders from major stakeholders moving from information to action.

Post-Meeting Resources
Plenary talks, Posters & outcomes

Our Partners

The OFA was a Founding Partner of the International Partnership for Dogs and an Initiating Partner for the HGTD Initiative. See OFA's About Us page at: https://www.ofa.org/about   The OFA is a participant in the IPFD's Harmonization of Genetic Testing for Dogs Initiative. Website: https://www.ofa.org/    

Reception within the Dog Community   Extensive Outreach: IPFD and DogWellNet.com are being received enthusiastically by the dog community (see examples of media coverage in our IPFD News section), and we are frequently used as a resource and our CEO and other IPFD contributors are approached by partner organizations for veterinary meetings, educational events for breeders and judges, and government and regulatory groups to share international perspectives on tough issues. Recent examples include: Outreach Seminar on Healthy Breeding - 42nd World Small Animal Veterinary Association Congress and 23rd FECAVA Eurocongress  

The Irish Kennel Club promotes the responsible ownership and breeding of dogs throughout Ireland through education, registration, training and support schemes and events.   Website: http://www.ikc.ie/ Irish Kennel Club Blog at DogWellNet: - under construction -

Suomen Kennelliitto (Finnish Kennel Club, in English) - Established in 1889, the Finnish Kennel Club is a nationwide expert organisation on canine matters. Its aim is to promote the breeding of pedigree dogs, support diverse dog-related activities and improve dog-keeping standards in Finland. FKC disseminates expert information and serves as a comprehensive lobbying organisation for Finnish and international dog activities.   Website: https://www.kennelliitto.fi/en Finnish Kennel Club Blog at DogWellNet: - under construction -

Embark is more than a product, or even a company. It is a promise to share the journey of a lifetime with you and your dog. You invite us, via our app and website, into your home to help you understand and care for your dog like never before. We invite you to join us in making new discoveries in dog health, wellness, care, and understanding: via our research questions, regular results updates, blog posts, social media, and events.     Embark is a proud sponsor of IPFD's Harmonization of Genetic Testing for Dogs Initiative.      

ANTAGENE develops, produces and markets DNA tests for parentage certification and disease prevention in dogs and cats. The company is based near Lyon (France) and has a staff of 18 people. ANTAGENE offers more than 100 DNA tests in some 50 countries around the world. ANTAGENE solutions have been used by more than 80,000 breeders and veterinarians the world over.   ANTAGENE is a proud sponsor of IPFD's Harmonization of Genetic Testing for Dogs Initiative.    

Royal Canin is a global leader in pet health nutrition. In an industry that continues to adapt to popular trends in cat and dog food, our mission will remain the same; to constantly bring, through Health Nutrition and shared knowledge, the most precise nutritional solution for cats' and dogs' health nutrition needs, by building on constantly deepened scientific knowledge and Royal Canin's roots in the feline and canine professional networks.

Our laboratory provides a complete testing service for veterinary surgeons to meet the diagnostic needs of your practice.     LABOKLIN is a proud sponsor of IPFD's Harmonization of Genetic Testing for Dogs Initiative.      

A Continuing and Sustainable Development The International Partnership for Dogs (IPFD) and DogWellNet.com have come into being following a long history of efforts by many stakeholders to address dog health and well-being. An abbreviated timeline of key developments will highlight the complexity of issues addressed by the IPFD and DogWellNet and will list some of the many supporters and collaborators that have contributed directly or indirectly to this important work. Development was inaugurated under the patronage of the Fédération Cynologique Internationale (FCI). The major contributors (in-kind and funding) since 2011 have been, chronologically, the Agria Animal Insurance

CAG GmbH makes it easy to secure the genetic health of your four-legged friends. We provide the tools you need: a comprehensive offering of genetic tests, quick turn-around in the in-house accredited laboratory, and personal counseling to help you understand what the results really mean for you and your animal. With state-of-the-art technology, a robust R&D program, and dedicated specialists in animal genetics, CAG works with you to ensure the health and happiness of your best friend.     CAG GmbH is a proud sponsor of IPFD's Harmonization of Genetic Testing for Dogs Initiative.          

Sentinel Biomedical is a pioneering comparative health company committed to research and scientific innovation. The company's primary focus is investigating canine cancers and identifying biological changes and environmental influences that may be shared with human cancers, making canines true watchdogs in the area of human health.   Sentinel Biomedical is a proud sponsor of IPFD's Harmonization of Genetic Testing for Dogs Initiative.      

Utilising the latest DNA technologies has enabled the VHLGenetics to grow exponentially since 1993.   Our experienced laboratories offer more than 1,000 routine DNA tests for animals, plants and microorganisms. The three locations offer the same DNA services, and the number of DNA tests available is routinely increased by the newest developments in the field.     VHLGenetics is a proud sponsor of IPFD's Harmonization of Genetic Testing for Dogs Initiative.          

The French Kennel Club - SOCIÉTÉ CENTRALE CANINE (SCC) - was founded in 1881 as a non-profit organization by dog fanciers aiming to replenish native dog breeds and to bring in and establish foreign ones as well. The Société Centrale Canine became soon the reference canine organization, being recognized as a public interest organization by decree of the Council of State in April 1914. The SCC is proud to be one of the founders of the FCI in 1911, together with the Kennel Clubs from Germany, Austria, Belgium and the Netherlands.   Website: https://www.centrale-canine.fr/ Follow this link for the French Kennel Club Blog at DogWellNet

Agria is one of the world's leading animal insurers, specialising in small animal and equine insurance. Founded in Sweden over 120 years ago, Agria came to the UK in 2009 and is now a prominent feature of the UK pet insurance industry. In the UK, Agria insures cats, dogs and rabbits.

The VDH - Verband für das Deutsche Hundewesen (German Kennel Club in English) is the foremost organisation representing the interests of dog owners throughout Germany – the first address to find out everything there is to know on the subject of life with dogs, on dog sports and on dog breeding. As an umbrella organisation for its 175 member clubs, the VDH today represents more than 650,000 members.   Website: http://www.vdh.de/en/home/ An overview of the VDH (in German) can be found here.    "The VDH is the leading advocacy of all dog owners in Germany - the primary authority on life with dogs, dog sports and dog breeds. As the umbrella organization for 175 member ass

The Dog Breeding Reform Group (DBRG) is an organisation dedicated to improving the health and welfare of dogs through responsible breeding. It was founded in 2013 and became a Charitable Trust in 2015. Members of the DBRG include veterinary specialists, dog welfare and law experts, breeders and dog owners.

Mission Facilitate collaboration and sharing of resources to enhance the health, well-being and welfare of pedigreed dogs and all dogs worldwide. Vision An enduring global collaboration enhancing dog health, well-being and welfare, and human-dog interactions. Values Dog health, well-being and welfare and human-dog interactions contribute to the quality of life for both species. The world is a better place because we share it with dogs. Dog issues are important around the globe and international sharing and cooperation is needed. Goals The general goals of the IPFD are to:  Enhance the health, well-being and welfare of dogs and enr

Website: http://www.akc.org

The Veterinary Genetics Laboratory (VGL) at the University of California, Davis provides dog DNA testing services, including forensic genetic analyses, to a world-wide clientele. Validation and standardization of genetic tests across laboratories are areas in which the VGL has been engaged in for many years, primarily via workshops supported by the International Society for Animal Genetics.     The VGL is a proud sponsor of IPFD's Harmonization of Genetic Testing for Dogs Initiative.      

IPFD At-a-Glance: Non-profit, registered in Sweden Independent, international, multi-stakeholder, multi-disciplinary Facilitates collaboration and sharing of information and bringing the dog world together for action to enhance dog health, well-being, and welfare. Our Partners and Collaborators are organizations that share our interest in dog health, well-being, and welfare. Our Founding Partners were national kennel clubs, international cynological organizations, and from pet industries; our collaborating partners include groups from academic institutions, breed specific interests, educational and professional organizations (include both for profit and non-profi

We're Genoscoper - the specialists in canine genetics and animal DNA testing. We offer solutions to help you make informed decisions about pet care and breeding, through comprehensive testing services and improved DNA diagnostics, with the most advanced BioIT.     Genoscoper is a proud sponsor of IPFD's Harmonization of Genetic Testing for Dogs Initiative.      

Pedigreed Breeds

An imperturbable dog, prepared for defense, whose appearance fills with respect. Typical characteristics of this dog are his good natured, even temperament and his incorruptible loyalty towards his master. He has highly developed sense organs, intelligence, trainability, strength, endurance, speed, resistance to weather and diseases. His inborn ability to bear strain and his self assurance make him best suited for being a companion, sporting, utility and working dog.