Boston Terrier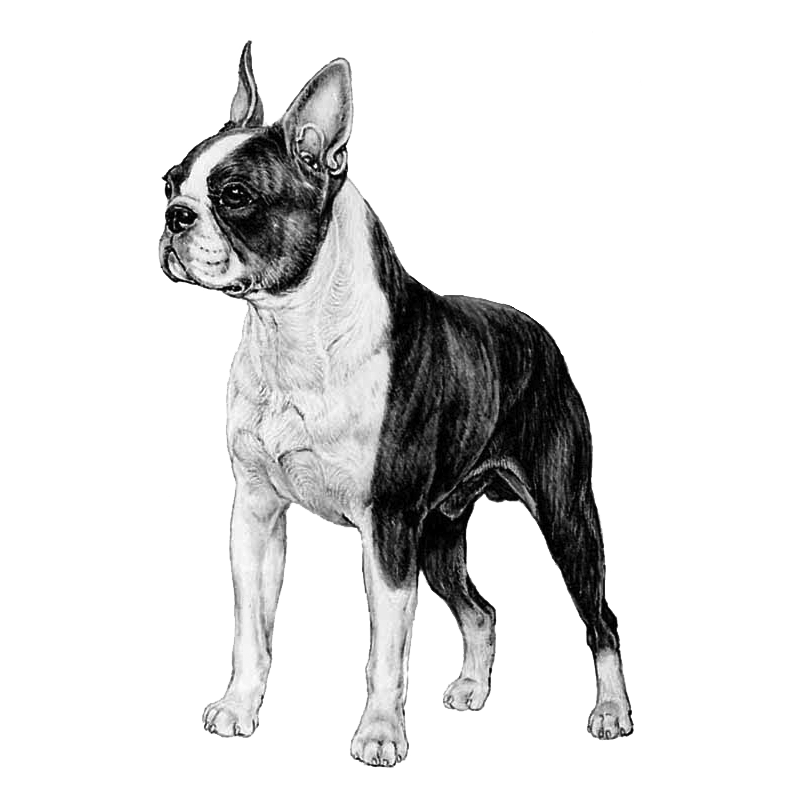 ---
Brief Description

 

A real Yankee-Doodle-Dandy! Although he owes a little of his ancestry to the British Bulldog, the Boston Terrier actually came into being in the late nineteenth century in the eastern states of America when, in 1893, a mix of bull and terrier types produced the first pair of dogs that were to become the foundation of the breed.

Source: The Kennel Club




Links to Breed Descriptions

 

The Boston Terrier Club of America: About Boston Terriers

 

View more videos on AKC's YouTube Channel

 

BOSTONTERRIER




Other Names for Breed

 

 




Country of Origin and Parent Breed Club

 

Country of origin: United States

Parent breed club: Boston Terrier Club of America




Health and Well-Being

 

Some sources of health information include:

National kennel clubs and breed clubs (see, e.g. Breeding/Health Strategy Documents, below)
Population-level statistics (see, e.g., Swedish Insurance Data, below)
Research articles
Breed club surveys




Breed-Specific Articles

 


Breed Standards

 

There are numerous breed standards.

The basis of breed/conformation shows is the judging of pedigree dogs against the 'Breed Standard', which is a picture in words that describes the range of features that are deemed appropriate for the breed.

Three of the major international standards are:




Breed-Specific Statistics

 

1. Boston Terrier registration statistics, 2004 UK-KC Health Survey, and breed specific articles (see Downloads)

2. Finnish Kennel Club Database: Boston Terrier

Also see the JTO for multi-country registrations data: https://jalostus.kennelliitto.fi/RotuPDF.ashx?R=140&T=2

3. Swedish Insurance Data
Breed-specific information on rates of disease and death from Agria Pet Insurance (Agria Djurförsäkring) is available for many breeds. This breed has information on Veterinary Care Events.

 




Breeding/Health Strategy Documents

 

Health/Breeding Strategy Documents and Links:

The Kennel Club, UK: Breed Watch (Category 2)
Sweden: Breed-specific Breeding Strategies: (in Swedish) and/ or English summary
Finland: Bostoninterrierin jalostuk sentavoiteohjelma 2014–2018 (in Finnish) (internal: bostoninterrieri.pdf)

Health Surveys:

Other Health-Related Information:

OFA/CHIC Tests: CHIC tests recommended by the AKC parent club, The Boston Terrier Club of America, include: Eye Examination by a boarded ACVO Ophthalmologist; Patellar Luxation; and Congenital Deafness (BAER)
The Kennel Club: Eye screening scheme (BVA/KC/ISDS) &  DNA test - HC-HSF4 

-

Find lists of tested dogs
Nordic Clubs BSI: Bostonterrier – brachycephalic and small molossoïd breed

Areas of risk are related to toy type and brachycephaly:

General construction: Overly short body, roach back, diminutive tail, too short and flat in muzzle. Heavy and coarse head.
Breathing: Problems which can be linked to narrow respiratory channels: insufficient room in pharyngeal cavities and/or ribcage and pinched nostrils. Look for sound breathing, the correct formation of the head/skull and the dog's proportions.




Breed-Specific DNA Tests:

---

Other Breed-Specific Webpages

 

 

 




Breed-Specific Research

 

 

 




Breed Clubs

 

We are listing sites for breed clubs with health or other information that might be helpful. Follow links below.

Australia: Australian National Kennel Council: Boston Terrier
Finland: Finnish Toy Dog Society
Finland: Boston Terrier Club - Tervetuloa Suomen Bostonit - Finnish Bostons ry.n internetsivuille
France (SCC): Terrier de Boston
France: Club Francaise du Boston-Terrier et du Carlin
Germany (VDH): Club für Boston-Terrier in Deutschland e. V. http://www.boston.zuchtmanagement.de/

Ireland: The Irish Kennel Club - IKC Boston Terrier Page lists the All Ireland Boston Terrier Club's contact information.
Italy: The Italian Kennel Club (ENCI): Boston Terrier
Norway: Norsk Boston Terrier Klubb
Sweden: Svenska Bostonterrierklubben
UK: The Kennel Club: Boston Terrier
UK: Boston Terrier Breed Clubs
USA: Boston Terrier Club of America (BTCA)

Latest information on studies and health clinics.
Also see The Boston Terrier Club of America's Voluntary Health Certification Program - dogs receiving health certifications defined by the program are individually listed by year from 2003 to current (2015 is time of publication).



---
Report Entry
---
---
User Feedback