Border Collie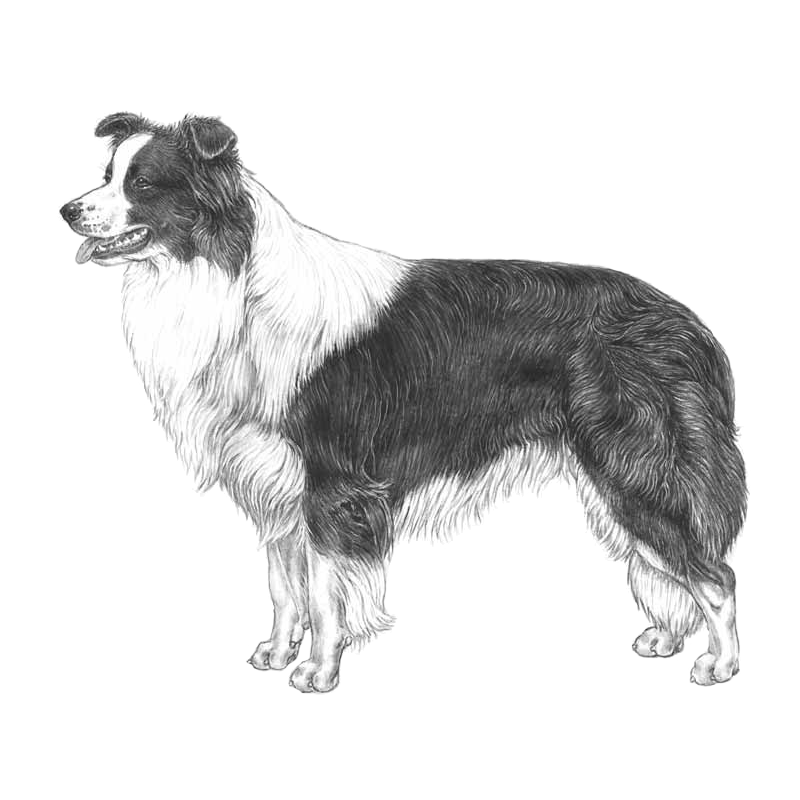 ---
---

Brief Description:

 

This highly intelligent dog has an inborn instinct to work, and responds readily and eagerly to training. He was originally used for working sheep in the hills and mountains, mainly in the border counties of England, Scotland and Wales, but his prowess as a working sheepdog has now spread countrywide throughout Britain and even farther afield.

Source: The Kennel Club

---

Links to Breed Descriptions:

 

See: The German Kennel Club (VDH) for information and video (if available).
(Hint: your browser should be able to Translate to English, at least for text (e.g., right click in Google Chrome or Internet Explorer).)

 

This and other breed videos are available in full length here

 

 

Border Collie Extended Breed Standard - The Border Collie Club of Victoria Inc in collaboration with the Australian National Kennel Council

JUDGING THE BORDER COLLIE- From a Working Perspective - Janet E. Larson.pdf

 

 

---

Other Names for Breed:

 

 

 

---

Country of Origin and Parent Breed Club:

 

Great Britain

Border Collie Club Of Great Britain: http://www.bordercollieclub.com/

 

---

Health and Well-Being:

 

Some sources of health information include:
National kennel clubs and breed clubs (see, e.g. Breeding/Health Strategy Documents, below)
Population-level statistics (see, e.g., Swedish Insurance Data, below)
Research articles
Breed club surveys
---
Breed-Specific Articles: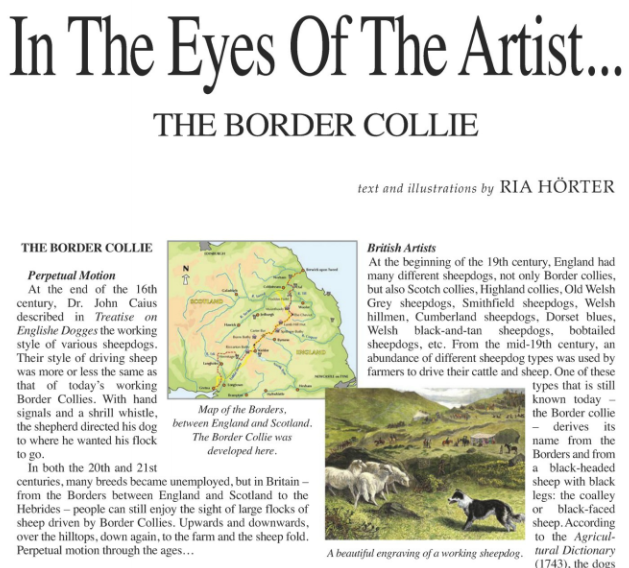 In The Eyes Of The Artist - The Border Collie
(Internal) In The Eyes Of The Artist -The Border Collie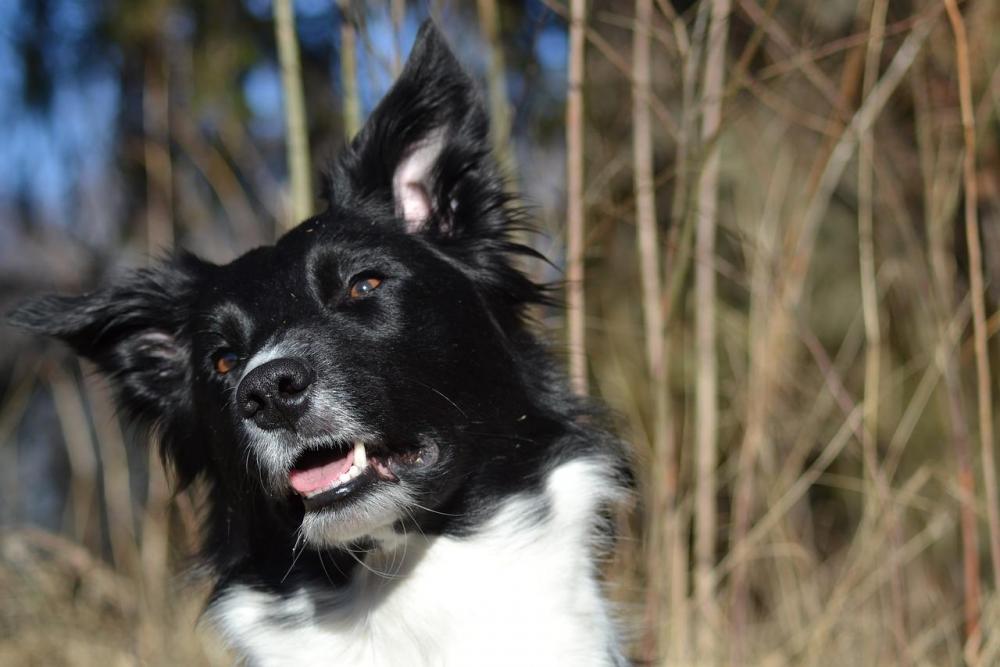 The International Sheep Dog Society: https://www.isds.org.uk/
---
Breed Standards:
There are numerous breed standards.
The basis of breed/conformation shows is the judging of pedigree dogs against the 'Breed Standard', which is a picture in words that describes the range of features that are deemed appropriate for the breed.
Three of the major international standards are:
---
Breed-Specific Statistics:
1. Swedish Insurance Data
Breed-specific information on rates of disease and death from Agria Pet Insurance (Agria Djurförsäkring) is available for many breeds.
This breed has information on Veterinary Care and Life Insurance.
2. Kennel Club Border Collie Registration Statistics: September 2015 Population analysis of the Border Collie breed
3. Finland: Database: Border Collie: https://jalostus.kennelliitto.fi/frmEtusivu.aspx?R=297
4. Border Collie Goniodysgenesis and Glaucoma Database: https://bc-glaucomadatabase.synthasite.com/
Statistics by country: https://bc-glaucomadatabase.synthasite.com/statistics.php
5. Adune Border Collie Database: https://www.anadune.com/
"The Anadune Border Collie Database contains information on 234,051 dogs and 12,231 shows, covering all forms of competition including show, obedience and agility. The database is intended to be an aid to all breeders and owners of Border Collies."
---
Breeding/Health Strategy Documents:
Health/Breeding Strategy Documents and Links:
The Kennel Club, UK: Breed Watch
Sweden: Breed-specific Breeding Strategies: (in Swedish) and/ or English summary
Finland: BORDERCOLLIEN ROTUKOHTAINEN JALOSTUKSEN TAVOITEOHJELMA: https://www.kennelliitto.fi/sites/default/files/attachments/jto/bordercollie.pdf
Health Surveys:
Kennel Club Border Collie Breed Health Survey ( September 2017)
---
Breed-Specific DNA Tests:
The Kennel Club list of DNA tests available for each breed along with an indication as to whether the test is part of the Assured Breeder Scheme (recommended or required) and whether it is recorded on the Kennel Club registration database.
Border Collie - Tests listed in the HGTD
---
Other Breed-Specific Webpages:
Pastoral Breeds Health Foundation (PBHF)
Border Collie Breed Council (UK) http://www.bordercolliebreedcouncil.co.uk/
---
Breed-Specific Research:
Border Collie owner, care about epilepsy & willing to collect a hair sample for us? Join the Great Big Hairy Border Collie Study!
#doghealth pic.twitter.com/WhCwErr2Rj

— Dr Rowena Packer (@DogsbodyRVC) July 13, 2017
Pre-screening Survey  -  The Big Brainy Border Collie Study Pre-Screening (Study 2)
Arginine to glutamine mutation in olfactomedin-like 3 (OLFML3) is a candidate for severe goniodysgenesis and glaucoma in the Border Collie dog breed.
Border Collie collapse (BCC) --  Canine Genetics Lab - University of Minnesota
Finland: University of Helsinki and at Folkhälsan Research Center: Border Collie 
---
Breed Clubs:
We are listing sites for breed clubs with health or other information that might be helpful. Follow links below.
Australia: National Border Collie Council
Canada: Canadian Border Collie Association
UK: Border Collie Club of Great Britain
USA: Border Collie Society of America (BCSA) http://www.bordercolliesociety.com/
Finland: Suomen bordercolliet ja australiankelpiet ry: http://www.sbcak.fi/ 
---
---
User Feedback