Brussels Griffon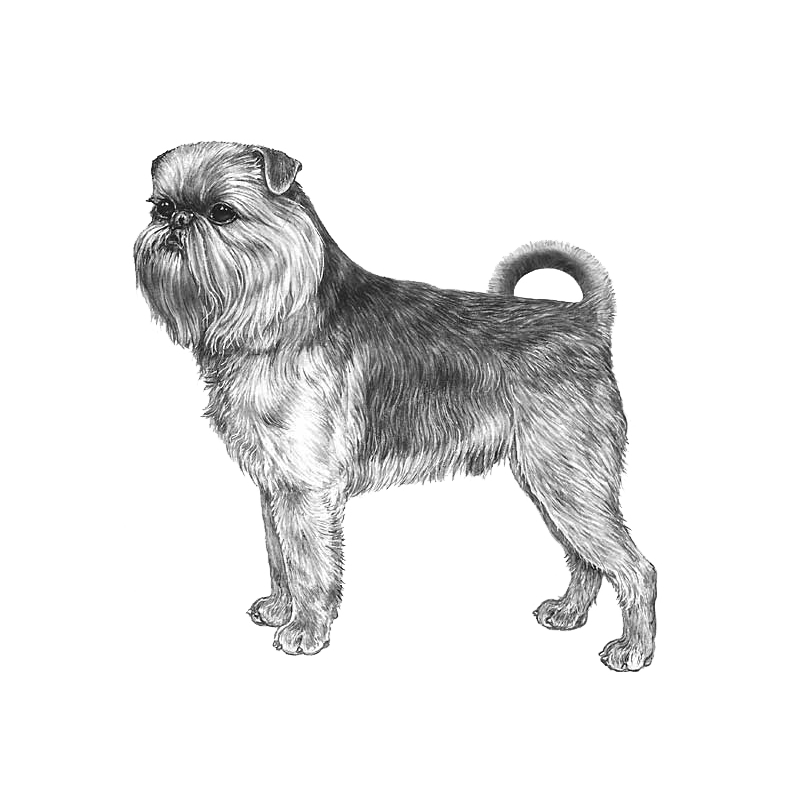 ---
---

Brief Description:

 

At one time known as the Belgian street urchin, this breed originated in Belgium and has traces of Affenpinscher in its ancestry. A variety of this little dog appeared in a painting by the Flemish artist Jan van Eyck as long ago as 1434 and the breed was already standard in type by the 1600s. He used to earn his keep as a stable dog where horses for hansom cabs were kept. He arrived in Britain in the late 1800s.

Source: The Kennel Club

---

Links to Breed Descriptions:

 

View more videos on AKC's YouTube Channel

 

---

Other Names for Breed:

 

griffon bruxellois
Griffon bruxellois    
Grifón de Bruselas    
Brüsseler Griffon

---

Country of Origin and Parent Breed Club:

 

Country of origin: Belgium

---

Health and Well-Being:

 

Some sources of health information include:
National kennel clubs and breed clubs (see, e.g. Breeding/Health Strategy Documents, below)
Population-level statistics (see, e.g., Swedish Insurance Data, below)
Research articles
Breed club surveys
---
Breed Standards:
There are numerous breed standards. The basis of breed/conformation shows is the judging of pedigree dogs against the 'Breed Standard', which is a picture in words that describes the range of features that are deemed appropriate for the breed.
Three of the major international standards are:
---
Breed-Specific Statistics:
See the BVA SM/CM Scheme + UK Kennel Club registrations Statistics
2018 Kennel Club Registration Statistics (Breed Record Supplements AV1 –AV4)
(Internal) GriffonBreedRecords2018.pdf
---
Breeding/Health Strategy Documents:
Health/Breeding Strategy Documents and Links:
1) The Kennel Club, UK: Breed Watch
   The Kennel Club: Population Analysis of the Griffon Bruxellois breed
2) Sweden: Breed-specific Breeding Strategies: (in Swedish) and/ or English summary
BSI:
        (Current translation of BSI Areas of Risk as of 5-15-2016, please see below.)
        Belgian Griffon, Brussels Griffon and Small Brabant Griffon
        (Griffon Belge, Griffon Bruxellois and Petit Brabançon) – brachycephalic type
Areas of risk are:
1.    Breathing: Problems caused by insufficient room in throat cavities and/or ribcage and/ or pinched nostrils.
2.    Face: Overly short muzzle can give rise to eye injuries.
3.    Movement: A deviant pattern of movement with frantic scratching behaviour and signs of unmotivated pain when on leash may indicate a serious neurological disorder, sy- ringomyelia.
Particular attention must be paid to breathing, nose and sound eyes as well as the pat- tern of movement.
OFA: CHIC: Health testing Requirements for Brussels Griffon: https://www.ofa.org/recommended-tests?breed=BG&var=
Health Surveys:
Databases:
---
Breed-Specific DNA Tests:
The Kennel Club list of DNA tests available for each breed along with an indication as to whether the test is part of the Assured Breeder Scheme (recommended or required) and whether it is recorded on the Kennel Club registration database.
---
Other Breed-Specific Webpages:
AKCCHF podcast: Syringomyelia (SM) in the Brussels Griffon
---
Breed-Specific Research:
Abstract: "This study aimed to develop a system of quantitative analysis of canine Chiari-like malformation and syringomyelia on variable quality MRI. We made a series of measurements from magnetic resonance DICOM images from Griffon Bruxellois dogs with and without Chiari-like malformation and syringomyelia and identified several significant variables. We found that in the Griffon Bruxellois dog, Chiari-like malformation is characterized by an apparent shortening of the entire cranial base and possibly by increased proximity of the atlas to the occiput. As a compensatory change, there appears to be an increased height of the rostral cranial cavity with lengthening of the dorsal cranial vault and considerable reorganization of the brain parenchyma including ventral deviation of the olfactory bulbs and rostral invagination of the cerebellum under the occipital lobes."
Clare Rusbridge BVMS PhD DECVN MRCVS
 
University of Surrey: Investigating the pathogenesis, diagnosis, and treatment and genetic cause of canine Chiari Malformation and syringomyelia.
---
Breed Clubs:
We are listing sites for breed clubs with health or other information that might be helpful. Follow links below.
Australia: Griffon Bruxellois Club of Victoria
Finland: Suomen Griffonyhdistys r.y
Germany: VDH: Verband deutscher kleinhundezüchter e.V.
Norway: Griffonrasene in NKK
Sweden: Svenska Griffonsektionen
UK: THE GRIFFON BRUXELLOIS CLUB 
UK: Griffon Bruxellois Breeders Association
US: American Brussels Griffon Association
---
---
Report Entry
---
User Feedback