Collie, Rough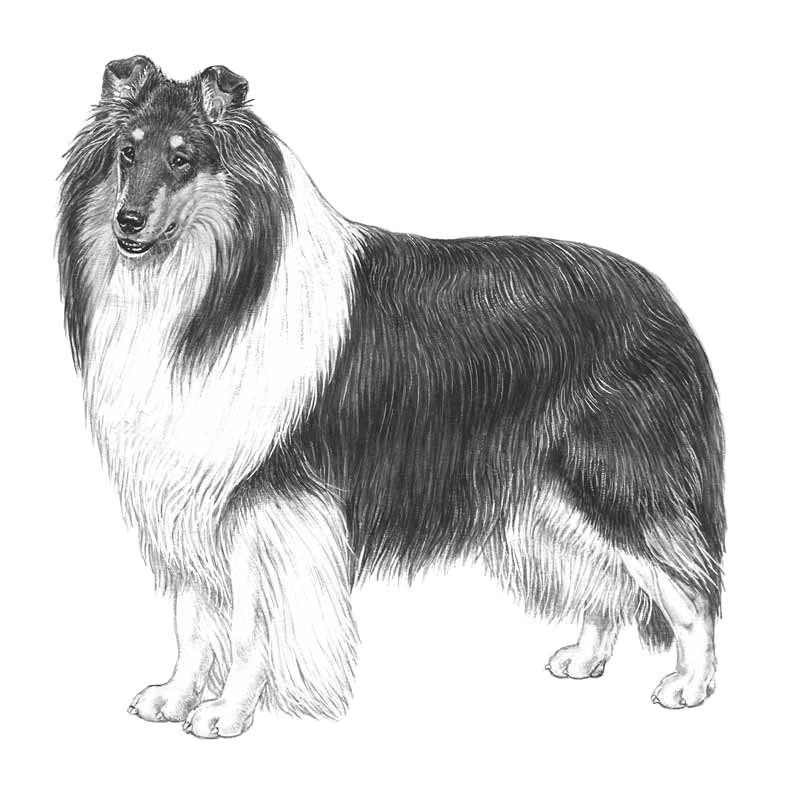 ---
---

Brief Description:

 

The Rough Collie is the same as the Smooth Collie with the exception of coat length. The breed is thought to have evolved from dogs brought originally to Scotland by the Romans that then mated with native types.

Source: The Kennel Club

---

Links to Breed Descriptions:

 

View more videos on AKC's YouTube Channel

 

 

View more videos on SCC's YouTube Channel

 

See: The German Kennel Club (VDH) for information and video (if available).
(Hint: your browser should be able to Translate to English, at least for text (e.g., right click in Google Chrome or Internet Explorer).)

 

This and other breed videos are available in full length here

---

Other Names for Breed:

 

Collie Langhåret
Scotch Collie
De Schotse Herdershond Langhaar
Collie, långhårig
Colley à poil long
Collie de pelo largo
Langhaariger Schottischer-Schäferhund

---

Country of Origin and Parent Breed Club:

 

Great Britain - The British Collie Club

---

Health and Well-Being:

 

Some sources of health information include:
National kennel clubs and breed clubs (see, e.g. Breeding/Health Strategy Documents, below)
Population-level statistics (see, e.g., Swedish Insurance Data, below)
Research articles
Breed club surveys
---
Breed-Specific Articles:
Health Related/Diseases-Conditions
1. Collie Eye Anomaly / Choroidal hypoplasia
Disease description:
2. PRA test (rod-cone dysplasia Type 2 <rcd2>)
3. Multidrug Sensitivity
Disease description:
Screening for the above conditions is recommended by Collie Club of America, The Kennel Club (Assured breeder) and others.
4. Canine Cyclic Neutropenia (Gray Collie Syndrome)
5. Collie Health Foundation Seminar on Hip & Elbow Dysplasia, OFA and Pennhip (2019)
---
Breed Standards:
There are numerous breed standards.
The basis of breed/conformation shows is the judging of pedigree dogs against the 'Breed Standard', which is a picture in words that describes the range of features that are deemed appropriate for the breed.
Three of the major international standards are:
---
Breed-Specific Statistics:
1. Swedish Insurance Data
Breed-specific information on rates of disease and death from Agria Pet Insurance (Agria Djurförsäkring) is available for many breeds.
This breed has information on Veterinary Care and Life Insurance.
2. Registrations
Multiple Kennel Clubs' Registration Statistics
---
Breeding/Health Strategy Documents:
Health/Breeding Strategy Documents and Links:
The Kennel Club, UK: Breed Watch
Sweden: Breed-specific Breeding Strategies: (in Swedish) and/or English Summary
Finland
---
Breed-Specific DNA Tests:
The Kennel Club list of DNA tests available for each breed along with an indication as to whether the test is part of the Assured Breeder Scheme (recommended or required) and whether it is recorded on the Kennel Club registration database.
Dr. Leigh Anne Clark, Clemson University At Collie Club of America National Specialty March 29, 2018 - development and use of a DNA test for Dermatomyositis and Interpreting Risk Assessments
---
Other Breed-Specific Webpages:
Collie Health Foundation
British Collie Club
Health
Collie-Online.com: Collie History, Pedigrees and health information (French)
Pastoral Breeds Health Foundation
International Collie Society
---
Breed-Specific Research:
---
Breed Clubs:
We are listing sites for breed clubs with health or other information that might be helpful. Follow links below.
Denmark: Dansk Collie Klub | Health

Finland: Suomen Collieyhdistys ry / Finlands Collieförening rf.

Germany: Deutschen Collie-Club e.V.
Ireland: IKC: Breed information and contacts are available

Ireland: AICSS (All Ireland Collie & Sheepdog Society) - The Rough Collie Breed Specialist Club

Italy: Italian Collie Club
Netherlands: De Collieclub
Norway: Norsk Collie Klubb
Sweden: Svenska Collieklubben
The Kennel Club: Breeding Restrictions: NOTE: "With effect from 01 January 2013, the Kennel Club will not register puppies whelped from a merle to merle mating born on or after this date. This is due to associated health risks of impaired vision and hearing associated with the merle gene in this breed."
Standard Review Committee 2009: Includes discussion of inheritance of coat color, as well as The Collie Club of America Standard Review Committee's presentation of data from a variety of sources regarding discussion on the sable merle. Replies to questions represent a solid cross section of breeders, exhibitors, and judges whose opinions differ on the subject, but who have had enough hands on experience dealing with the sable merle to add credibility to their replies.
---
---
User Feedback