Dalmatian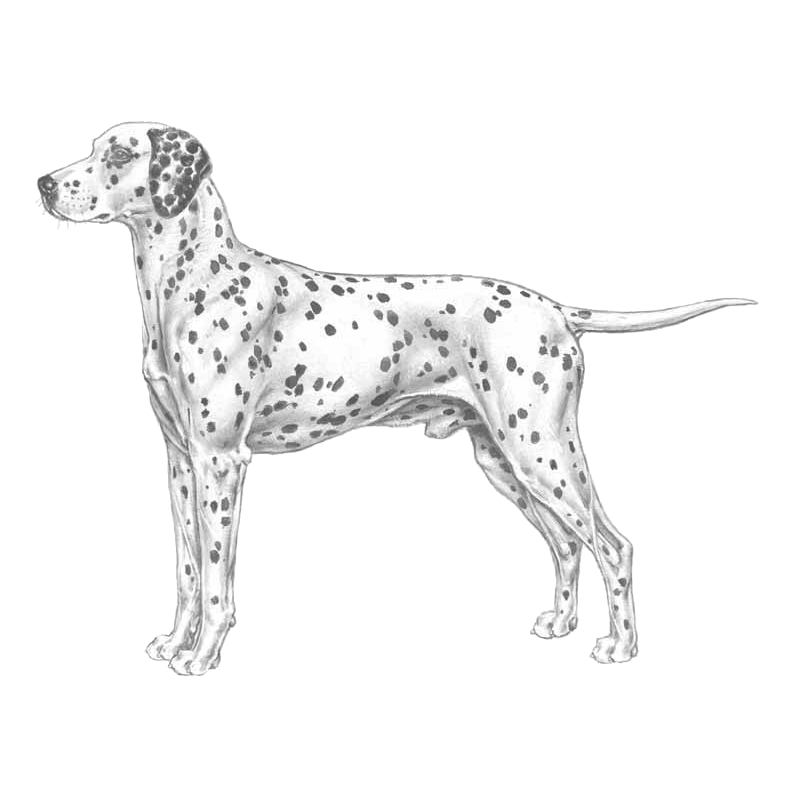 ---
---

Brief Description:

 

The Dalmatian is a large breed of dog noted for its unique black or liver spotted coat and was mainly used as a carriage dog in its early days.

Source: Wikipedia

---

Links to Breed Descriptions:

 

Hrvatski kinološki savez • Croatian Kennel Club - Illustrated Breed Standard
  from... F.C.I.'s Breed-specific education: http://www.fci.be/en/Nomenclature/educationGroupe.aspx
 
  Dalmatian Club of America: A Judge's Guide for The Dalmatian: http://www.thedca.org/JudgesEd/AJudgesGuideforDalmatiansV8.pdf

 

 

View more videos on AKC's YouTube Channel

 

 

See: The German Kennel Club (VDH) for information and video (if available).
(Hint: your browser should be able to Translate to English, at least for text (e.g., right click in Google Chrome or Internet Explorer).)

 

This and other breed videos are available in full length here

 

---

Other Names for Breed:

 

Dalmatiner
Dalmatinac
Dalmatien
Dálmata
Dalmatiner

 

---

Country of Origin and Parent Breed Club:

 

Croatia

HRVATSKA UDRUGA DALMATINSKIH PASA ATILA DUBAC – ZAGREB: Facebook: https://www.facebook.com/dalmatinskipasnet

 

---

Health and Well-Being:

 

Some sources of health information include:
National kennel clubs and breed clubs (see, e.g. Breeding/Health Strategy Documents, below)
Population-level statistics (see, e.g., Swedish Insurance Data, below)
Research articles
Breed club surveys
---
Breed-Specific Articles: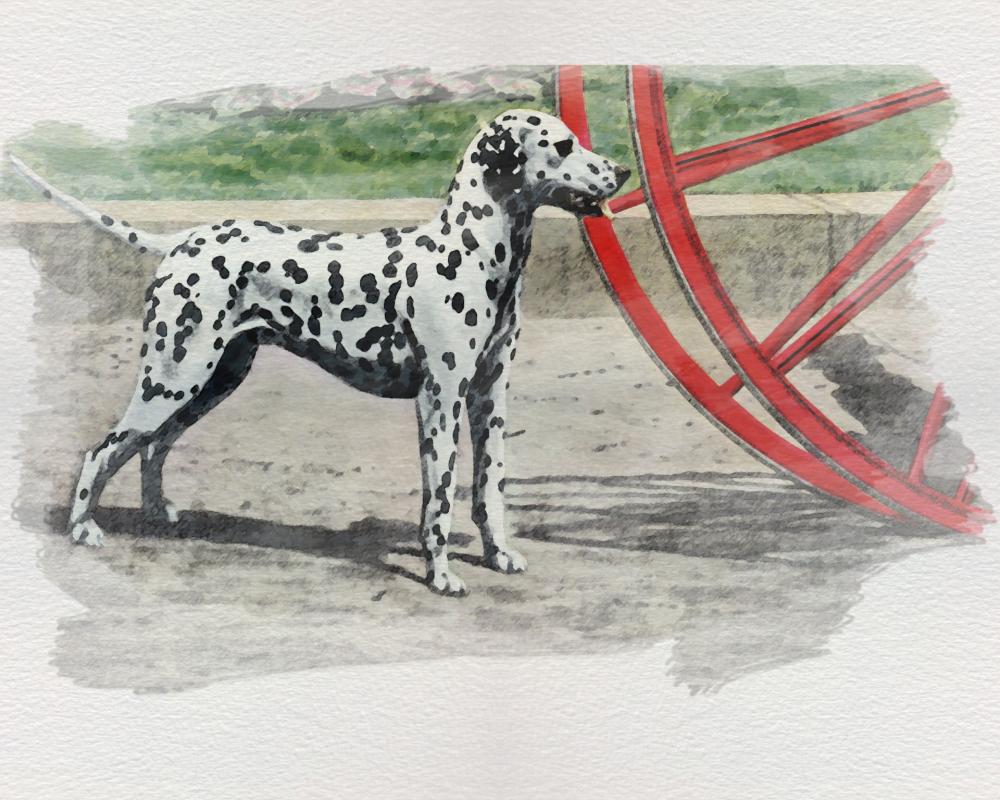 ---
Breed Standards:
There are numerous breed standards.
The basis of breed/conformation shows is the judging of pedigree dogs against the 'Breed Standard', which is a picture in words that describes the range of features that are deemed appropriate for the breed.
Three of the major international standards are:
---
Breed-Specific Statistics:
1. Swedish Insurance Data
Breed-specific information on rates of disease and death from Agria Pet Insurance (Agria Djurförsäkring) is available for many breeds.
This breed has information on Veterinary Care and Life Insurance.
---
Breeding/Health Strategy Documents:
Health/Breeding Strategy Documents and Links:
The Kennel Club, UK: Breed Watch
Sweden: Breed-specific Breeding Strategies: (in Swedish) and/ or English summary
The Kennel Club Population analysis of the Dalmatian breed: https://www.thekennelclub.org.uk/media/685663/dalmatian.pdf
US: CHIC: http://www.caninehealthinfo.org/brdreqs.html?breed=DM
Breed Health Surveys:
          Health Reporting -- ARDS
          ARDS tilanne 2002
          ARDS periytymiskaavio
---
Breed-Specific DNA Tests:
The Kennel Club list of DNA tests available for each breed along with an indication as to whether the test is part of the Assured Breeder Scheme (recommended or required) and whether it is recorded on the Kennel Club registration database.
Press Release: The Kennel Club Health Program for Dalmatians -- https://www.thekennelclub.org.uk/press-releases/2016/february/new-health-programme-for-dalmatians/
The Kennel Club DNA Testing scheme - Dalmatians -- https://www.thekennelclub.org.uk/health/for-breeders/dna-screening-schemes-and-results/dna-screening-for-breeds-c-g/dalmatian/
---
Other Breed-Specific Webpages:
UFAW: Hyperuricosuria
LUA Dalmatians World - Low Uric Acid (LUA) Dalmatians
LUA Dalmatians: Publications/ Articles
An independent review of the Dalmatian Backcross Project conducted by Irvin B. Kruckenkamp MD, Dalmatian Club of America Foundation
Report to the AKC Board of Directors from the American Kennel Club Health and Welfare Advisory Panel
Molecular Genetic Analysis of Backcross Dalmatians Compared to AKC Dalmatians, UK Dalmatians, Pointers, and Other Breeds
AKC ACCEPTS LUA DALMATIANS (2011)
DALMATIAN CLUB OF AMERICA FOUNDATION: Health Research
  The Spotter: The Official Online and Printed Dalmatian Club of America Magazine
Dalmatian sequence from Pedigree Dogs Exposed: The Sequel from Jemima Harrison on Vimeo.
Dalmatian sequence from Pedigree Dogs Exposed_ The Sequel.mp4
---
Breed-Specific Research:
University of Helsinki researchers have uncovered a novel gene associated with acute respiratory distress syndrome (ARDS) in dogs.
ANLN truncation causes a familial fatal acute respiratory distress syndrome in Dalmatian dogs... published on 21 February 2017 in the PLOS GENETICS journal
4th IDHW Poster -- Genomics of deafness in the Dalmatian ............................................................................

Claire Wade, Simone Carter, Lillian Brancalion, Bianca Haase, Georgina Child
Faculty of Science, University of Sydney, NSW 2006
Congenital Sensorineural Deafness in Dalmatian Dogs Associated with Quantitative Trait Loci (2013)
See UFAW's information on Dalmatian deafness
See OFA's information on congenital deafness
---
Breed Clubs:
We are listing sites for breed clubs with health or other information that might be helpful. Follow links below.
INTERNATIONAL
World Association for Dalmatians: (WAFDAL)  http://wafdal.org/index.php/de/
    WAFDAL Clubs and Members: http://wafdal.org/index.php/de/about-wafdal/members
Canada: Dalmatian Club of Canada
UK: British Dalmatian Club
USA: Dalmatian Club of America
Finland: Dalmatiankoirat - Dalmatinerna ry
Sweden: Svenska Dalmatiner-Sällskapet
---
---
User Feedback