Hälleforshund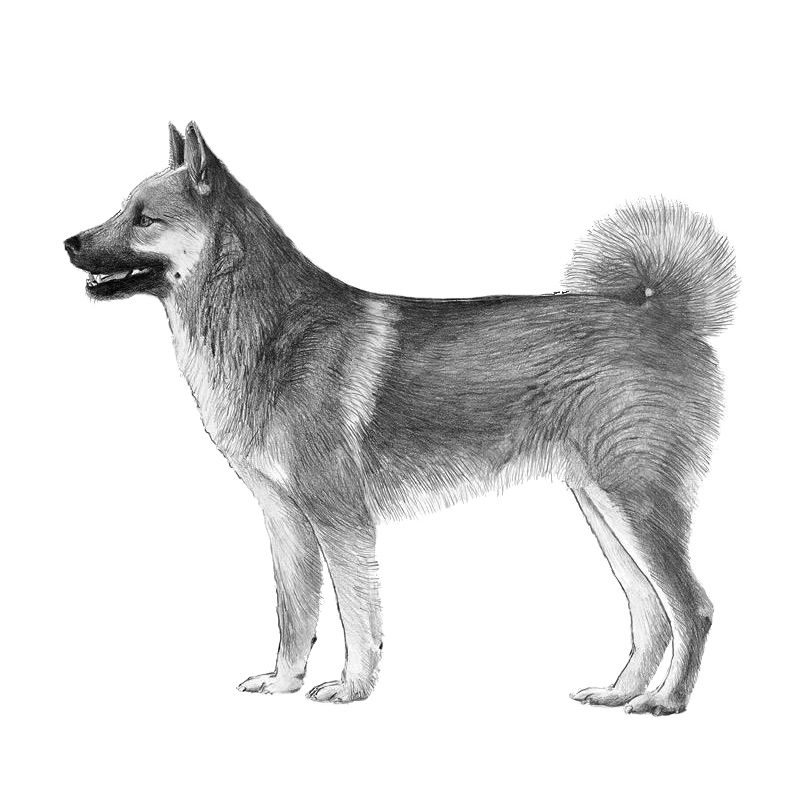 ---
---

Brief Description:

 

The Hällefors Elkhound is a medium-sized, rectangular Spitz with either a sickle or curly tail.

Source: https://en.wikipedia.org/wiki/Hällefors_Elkhound

(Google translate) The appearance and the emergence of the dogs that today are part of hällefors breed took place in parallel with the strong growth of the moose population that occurred during the 1930s in some areas of Värmland and Västmanland... Parts of the forest staff who were employed at Hellefors Bruks AB had, therefore, during the period 1935-1955 elk hunting as one of its main tasks during the autumn. A task usually performed as a one-man hunting with a capable löshund.
The need for good hunting dogs along with a rapidly growing moose population is the foundation on which hällefors dog's creation rests.

Source: Hällefors Dog Club http://halleforshunden.org/Jakt/Jakt.htm

Kept as a hunting and tracking dog of elk, wild boar, bear and badgers, the breed is active and durable in the field. This breed is not recognized by the FCI.

 

 

---

Links to Breed Descriptions:

 

Structure of this compendium This compendium includes the racial description established by SKK.

Raskompendium för HÄLLEFORSHUND

Utarbetat av Svenska Älghundklubben
inför exteriördomarkonferensen 2016

The Hälleforshund origins are described in the SKK's Sveriges hundraser: Swedish breeds of dogs

 

Hällefors Dog: SKK:

Here you can see beautiful pictures from the owners of hällefors dogs.

SKK: Breed information:

 

 

---

Other Names for Breed:

 

---

Country of Origin and Parent Breed Club:

 

Country of origin: Sweden

---

Health and Well-Being:

 

Some sources of health information include:
National kennel clubs and breed clubs (see, e.g. Breeding/Health Strategy Documents, below)
Population-level statistics (see, e.g., Swedish Insurance Data, below)
Research articles
Breed club surveys
---
Breed Standards:
There are numerous breed standards. The basis of breed/conformation shows is the judging of pedigree dogs against the 'Breed Standard', which is a picture in words that describes the range of features that are deemed appropriate for the breed.
SKK: http://www.skk.se/Global/Dokument/Rasstandarder/standard-halleforshund-skk3.pdf?epslanguage=sv
---
Breed-Specific Statistics:
1. Swedish Insurance Data Breed-specific information on rates of disease and death from Agria Pet Insurance (Agria Djurförsäkring) is available for many breeds.
---
Breeding/Health Strategy Documents:
Health/Breeding Strategy Documents and Links:
Sweden: Breed-specific Breeding Strategies: (in Swedish) and/ or English summary
---
Breed-Specific DNA Tests:
The Kennel Club list of DNA tests available for each breed along with an indication as to whether the test is part of the Assured Breeder Scheme (recommended or required) and whether it is recorded on the Kennel Club registration database: http://www.dogwellnet.com/content/_/health-and-breeding/screening-tests/dna/dna-tests-for-use-in-breeding-decisions/the-kennel-club-breed-specific-dna-tests-upd-r234
---
Breed Clubs:
We are listing sites for breed clubs with health or other information that might be helpful. Follow links below.
Sweden: Svenska Älghundklubben:  http://www.alghundklubben.com/
---
---
User Feedback