Hamilton Hound
---
---

Brief Description:

 

The Hamiltonstövare is above all a working dog, bred for hunting fox and hare, working singly or in pairs rather than in a pack. The combination of working ability and a lovely temperament makes the Hamiltonstövare a pleasant shooting dog. Standing 19 to 24 inches (49 to 61 centimetres) at the withers, makes him one of the larger stövare.
source: http://caninechronicle.com/uncategorized/masterminds-the-hamilton-hound/

---

Links to Breed Descriptions:

 

Swedish Native Breeds: http://www.skk.se/global/dokument/hundrasguiden/svenska-raser.pdf

SKK Website | Hamilton Hound: http://www.skk.se/sv/hundagande/kampanjer/stod-svenska-raser/Manadens-ras--hamiltonstovare/

Hamiltonstövare Club of America -- Judges Education presentation: http://www.hamiltonstovareusa.com/images/JudgesEducation.doc

 

 

 

 

 

---

Other Names for Breed:

 

Swedish Foxhound (colloquial)
Hamiltonstövare
Chien courant Hamilton
Sabueso de Hamilton
Hamilton-Laufhund
Hamiltonstøver

---

Country of Origin and Parent Breed Club:

 

Country of origin: Sweden

---

Health and Well-Being:

 

Some sources of health information include:
National kennel clubs and breed clubs (see, e.g. Breeding/Health Strategy Documents, below)
Population-level statistics (see, e.g., Swedish Insurance Data, below)
Research articles
Breed club surveys
---
Breed-Specific Articles:
Offsite
 Canine Chronicle: Masterminds – The Hamilton Hound 218 – May, 2013, text and illustrations by Ria Hörter
 Our Review of Hamilton…the Dog Breed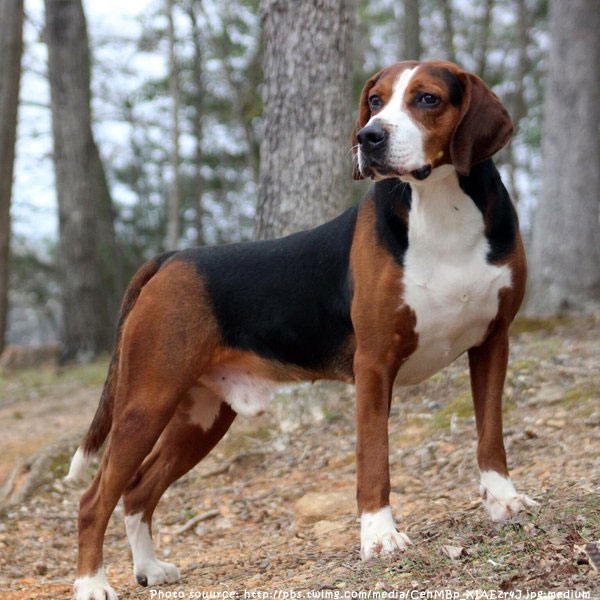 ---
Breed Standards:
There are numerous breed standards.
The basis of breed/conformation shows is the judging of pedigree dogs against the 'Breed Standard', which is a picture in words that describes the range of features that are deemed appropriate for the breed.
Three of the major international standards are:
---
Breed-Specific Statistics:
1. Swedish Insurance Data
Breed-specific information on rates of disease and death from Agria Pet Insurance (Agria Djurförsäkring) is available for many breeds.
This breed has information on Veterinary Care and Life Insurance.
Click here to view downloads
2. Finland: Database: http://www.shhj.fi/saj/
                  FKC - KoiraNet-jalostustietojärjestelmä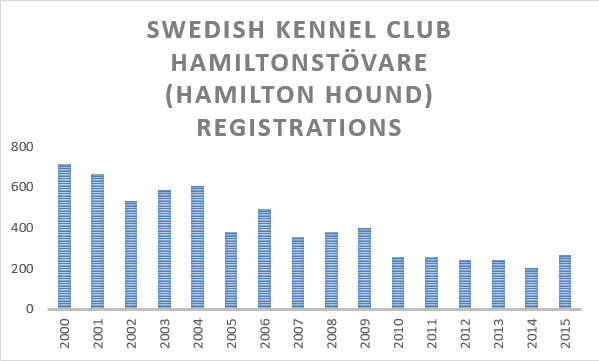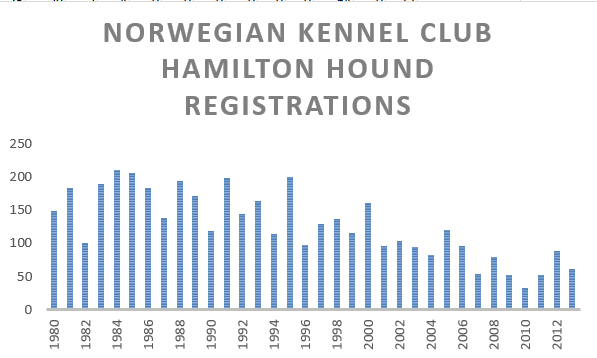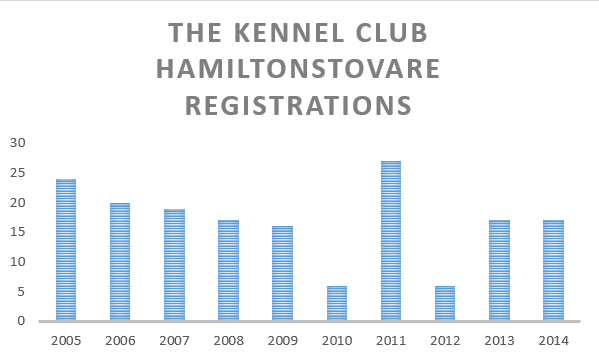 ---
Breeding/Health Strategy Documents:
Health/Breeding Strategy Documents and Links:
The Kennel Club, UK: Breed Watch
Sweden: RAS: Breed-specific Breeding Strategies: (in Swedish) and/ or English summary
---
Breed-Specific DNA Tests:
The Kennel Club list of DNA tests available for each breed along with an indication as to whether the test is part of the Assured Breeder Scheme (recommended or required) and whether it is recorded on the Kennel Club registration database: http://www.dogwellnet.com/content/_/health-and-breeding/screening-tests/dna/dna-tests-for-use-in-breeding-decisions/the-kennel-club-breed-specific-dna-tests-upd-r234
---
Breed Clubs:
We are listing sites for breed clubs with health or other information that might be helpful. Follow links below.
US: Hamiltonstövare Club of America http://www.hamiltonstovareusa.com/
      HCA Judges Education presentation: http://www.hamiltonstovareusa.com/images/JudgesEducation.doc
  Sweden: Svenska Stövarklubben http://www.stovare.se/stovare.asp
          Svenska Hamiltonstövareföreningen  http://hamiltonstovare.se/
  Finland: Finska stövarklubben http://www.ajokoirajarjesto.fi/svenska/
  Norway: Hamiltonringen http://www.hamiltonringen.com/
---
---
User Feedback