Icelandic Sheepdog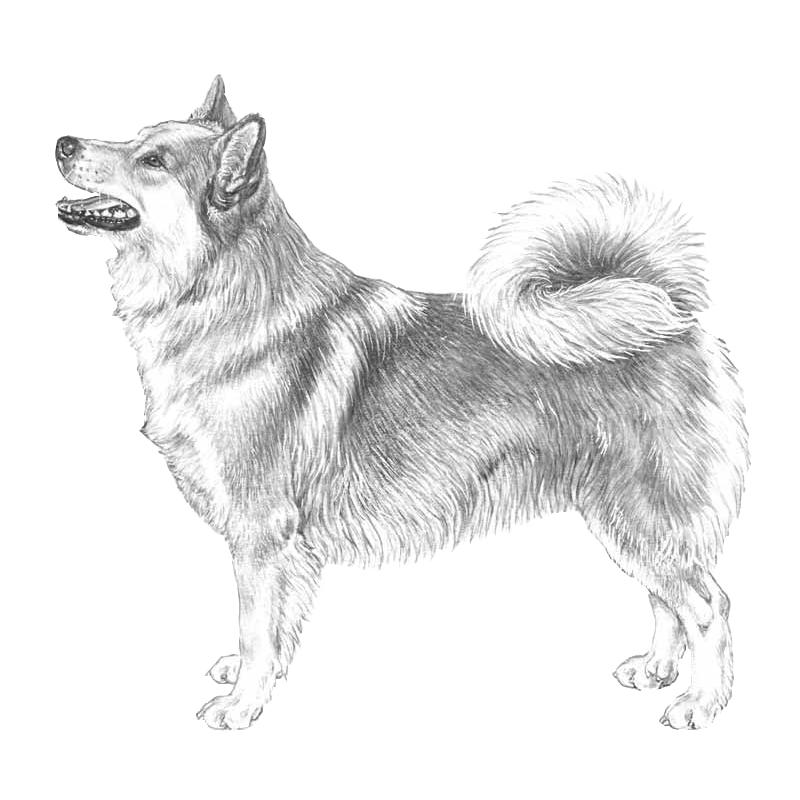 ---
---

Brief Description:

 

The Icelandic Sheepdog is a breed of dog of Spitz type originating from the dogs brought to Iceland by the Vikings. It is of similar type to the Norwegian Buhund and to the ancestor of the modern Shetland Sheepdog and Welsh Corgi.

---

Links to Breed Descriptions:

 

 

 

---

Other Names for Breed:

 

Isländsk fårhund
Islenkur fjarhundur
Chien de berger islandais
Perro de pastor islandés
Islandshund
Islandsk Fårehund

 

---

Country of Origin and Parent Breed Club:

 

Iceland
The Icelandic Kennel Club - Hundaræktarfélag Íslands: http://www.hrfi.is/

---

Health and Well-Being:

 

Some sources of health information include:
National kennel clubs and breed clubs (see, e.g. Breeding/Health Strategy Documents, below)
Population-level statistics (see, e.g., Swedish Insurance Data, below)
Research articles
Breed club surveys
---
Breed-Specific Articles:
---
Breed Standards:
There are numerous breed standards.
The basis of breed/conformation shows is the judging of pedigree dogs against the 'Breed Standard', which is a picture in words that describes the range of features that are deemed appropriate for the breed.
Three of the major international standards are:
FCI (Federation Cynologique Internationale)
Note: The Kennel Club does not recognize the Icelandic Sheepdog.
---
Breed-Specific Statistics:
1. Swedish Insurance Data
Breed-specific information on rates of disease and death from Agria Pet Insurance (Agria Djurförsäkring) is available for many breeds.
This breed has information on Veterinary Care and Life Insurance.
OFA Evaluations Source: http://www.offa.org/stats.html
Date obtained: 2/6/2015
OFA statistics for Icelandic Sheepdogs and other breeds are available @ http://www.offa.org/stats.html
---
Breeding/Health Strategy Documents:
Health/Breeding Strategy Documents and Links:
Sweden: Breed-specific Breeding Strategies: (in Swedish) and/ or English summary
Finland
ISIC: Breeding Recommendations: http://www.icelanddog.org/int-breeding-rec.html
ISIC International Policy for Icelandic Sheepdog Mentality and working abilities (9-2014)
---
Breed-Specific DNA Tests:
The Kennel Club list of DNA tests available for each breed along with an indication as to whether the test is part of the Assured Breeder Scheme (recommended or required) and whether it is recorded on the Kennel Club registration database.http://www.dogwellnet.com/content/health-and-breeding/screening-tests/dna/dna-tests-for-use-in-breeding-decisions/the-kennel-club-breed-specific-dna-tests-upd-r234
---
Other Breed-Specific Webpages:
Icelandic Sheepdog International Cooperation: http://www.icelanddog.org/: Member nations are: Austria, Denmark, Finland, Germany, Iceland, the Netherlands, Norway, Sweden, Switzerland and and USA.
Small population breed: Database at ISIC lists registered dogs: "There are 13362 dogs registered in the database today with almost 7000 born from the year 2000 and until today." (2-6-2015)
ISIC's main purpose is to help and encourage cross-border cooperation in all matters that will benefit and preserve the Icelandic Sheepdog.
Breed is known as: Islenskur fjárhundur * Iceland Dog * Islandsk Fårehund * Isländsk fårhund * Ijslandse hond * Islanninkoira * Icelandic Sheepdog * Islandhund
---
Breed-Specific Research:
---
Breed Clubs:
We are listing sites for breed clubs with health or other information that might be helpful. Follow links below.
---
---
User Feedback