Announcements

We just upgraded our software. Please expect some changes. Let us know if you have problems. Thanks for your patience.
Norwegian Lundehund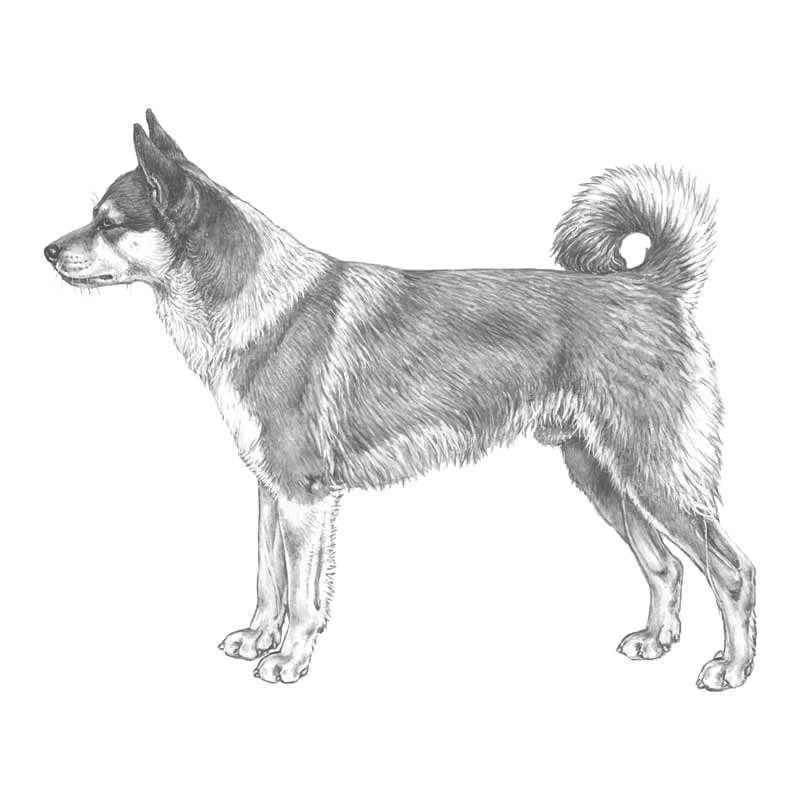 ---
---

Brief Description:

 

The Norwegian Lundehund is an ancient dog breed that was used to hunt seabirds along most of the Norwegian coast. The breed name is a combination of the Norwegian words "lunde" (puffin, Fratercula arctica) and "hund", dog. Although the breed's exact age is not known, there are descriptions of the use of dogs for puffin hunting that are more than 400 years old.

Source: The native dog breeds of Norway - http://www.skogoglandskap.no/f…/native_dog_breeds_norway.pdf

---

Links to Breed Descriptions:

 

Article: The History and the future of the Norwegian Lundehund – the Puffin dog
Author: Ingvild S. Espelien
JOURNAL of the International Society for Preservation of Primitive Aboriginal Dogs

 

excerpt...
"This article is based on the book "Lundehundboka" which was published in 2012 as part of the Norwegian Lundehund Club's 50 years anniversary. The article is also based on the breed compendium. It is produced by The Breeding Council of the Norwegian Lundehund Club in cooperation with members of the Club."

Breed history, photos an excellent resource!

 

US: AKC: NLAA Judge's Education Presentation NLAA Powerpoint Seminar

& Reference Guide (booklet): http://nlaainc.com/files/JE-Seminar-book-Rev-1.pdf

 

Breed Profile -- Onzehond: Norsk Lundehund: onzehond-Profiel Norsk Lundehund -- De Noorse papegaaiduikerhond.pdf

 

 

 

---

Other Names for Breed:

 

Norsk Lundehund

Norwegian Puffin dog

---

Country of Origin and Parent Breed Club:

 

 

Norway: Norsk Lundehund Klubb

 

---

Health and Well-Being:

 

Some sources of health information include:
National kennel clubs and breed clubs (see, e.g. Breeding/Health Strategy Documents, below)
Population-level statistics (see, e.g., Swedish Insurance Data, below)
Research articles
Breed club surveys
---
Breed Standards:
The basis of breed/conformation shows is the judging of pedigree dogs against the 'Breed Standard', which is a picture in words that describes the range of features that are deemed appropriate for the breed. The major international standards are:
FCI-Standard N° 265 NORWEGIAN LUNDEHUND (Norsk Lundehund)
FCI (Federation Cynologique Internationale)
---
Breed-Specific Statistics:
1. Swedish Insurance Data Breed-specific information on rates of disease and death from Agria Pet Insurance (Agria Djurförsäkring) is available for many breeds.
2. Norway: Statistics are available in the NKK RAS: http://web2.nkk.no/filestore/RAS/RAS-Norsk-lundehund-ver-1.pdf
---
Breeding/Health Strategy Documents:
Health/Breeding Strategy Documents and Links:
1. Norway: NKK RAS: http://web2.nkk.no/filestore/RAS/RAS-Norsk-lundehund-ver-1.pdf
A. The breeding strategy of the Norwegian Lundehund Club -- Crossbreeding
     Plans for the new breeding strategy were posted in English on Facebook in 2013...
Workshop at Starum 20th-21th of April 2013: The new breeding strategy of the Norwegian Lundehund Club – a short report
April 29, 2013 at 2:46pm by IngvildSvorkmo Espelien, Hanna Gautun and Turid Helfjord
Also refer to the Norwegian Lundehund Club (NLK) & Breed Specific breeding strategy (RAS) for project background.

Purpose
"The project objective is to improve the Norwegian lundehunds health and welfare by reducing the risk of developing gastric / intestinal disorder intestinal lymfangiektasi (IL) and to enhance fertility, while the breed's distinctive features are preserved.
Organization and foundation of the project
NKK Health Boards and Board has given permission to outcross of Norwegian Lundehund with the following three Breeds: Norwegian Buhund, Icelandic Sheepdog and norbotten spets. Crossing project will planned and implemented by the Norwegian Lundehund Club."
An ongoing chronicle...
Articles on the NLK's Lundehund Crossbreeding Project are available here.
Pairings information and photos can be found here.
Questions and answers on the crossbreed project (English) (external, PDF)
"The chairman of Norsk Lundehund Klubb has received an inquiry on the crossbreed project from a member of the club living abroad. The inquiry is related to the project initiating background, and NLK wants all interested parties to have the opportunity to read the answers. Hence, the two questions below and the answers from NLK are translated from Norwegian into English, German and French.
Further questions may be directed to the chairman of Norsk Lundehund Klubb, Rita Daverdin, e-mail leder@lundehund.no or by mobil phone +47 92236662.
The questions:
Was the project initiated
1.  under pressure from Norsk Kennel Klub (NKK): either NLK themselves will initiate a cross breeding project, or the project will be carried out under the supervision of NKK?
2.   by NLK without interference/pressure from NKK?
The Norwegian Lundehund Club's outcross project – Answers to questions forwarded by Stein Erik Greter:
  
1. The project was initiated as a result of the findings NLK made during the work with the breeding strategy for the "Norsk Lundehund" (RAS) and was included in an Action Plan for NLK after a workshop on RAS at Starum, an open meet ing at Øysanden and an open hearing, all in 2013.
The outcross project is carried out by NLK in cooperation with and under the control of the Norwegian Kennel Club (NKK), and in collaboration with NordGen and Norsk Genressurssenter.
2. NKK has not demanded that NLK start the outcross project. But, the high occurrence of IL and other intestinal problems, the reduced fertility and the high degree of inbreeding made it clear that NLK risked having a cross breeding program imposed on us, or that such projects were launched elsewhere (eg in Finland and  the USA). Finland had already raised the issue of inbreeding and health problems in the Lundehund breed with the Nordic Kennel Union. The signals were quite unmistakable. We were  clearly urged by the leader of NKK's health panel, Astrid Indrebø, (a meeting with Indrebø in Oslo in 2013 where Rita Daverdin and Hanna Gautun were present)  that NLK would be best off by taking charge of an outcross project ourselves.
3. Project dogs might be placed in other Nordic countries than Norway in the future. There are, however, a number of issues to address before this can be done. We are currently considering these matters and working out the formalities. In any case, ONLY dogs resulting from combinations approved by NLK and NKK will be accepted in the project."
 See the NKK's Norwegian Lundehund Crossbreeding Project article.
3. Sweden: Breed-specific Breeding Strategies: (in Swedish) and/ or English summary
---
Breed-Specific DNA Tests:
NOTE: The Kennel Club does not recognize the Norwegian Lundehund.
The Kennel Club list of DNA tests available for each breed along with an indication as to whether the test is part of the Assured Breeder Scheme (recommended or required) and whether it is recorded on the Kennel Club registration database: http://www.dogwellnet.com/content/_/health-and-breeding/screening-tests/dna/dna-tests-for-use-in-breeding-decisions/the-kennel-club-breed-specific-dna-tests-upd-r234
---
Breed-Specific Articles:
Video: Tom Søbstad og Trygve Andreassen/NRK
Low neutral genetic variability in a specialist puffin hunter - The Norwegian Lundehund.pdf
---
Other Breed-Specific Webpages:
DATABASES:
NLK - Norsk Lundehund Klubb Database:  http://daverdin.com/NLK/Publikk/MenyPublikk.aspx
FKC - Database: http://jalostus.kennelliitto.fi/frmEtusivu.aspx?Lang=en&R=265
---
Breed-Specific Research:
From NordGen
"The Norwegian Lundehund is an example of a Nordic dog breed with extremely low genetic variation and high level of inbreeding. The breed has relatively high mortality due to the disease intestinal lymphangiectasis (IL). Norwegian Lundehund Club is in the process of designing a new breeding strategy for the breed, as part of the joint Nordic cooperation described in this article. The strategy will be to cross individuals from other closely related Nordic dog breeds into the Lundehund. This will increase the genetic variation and reduce inbreeding, which is expected to reduce the problem of IL. The results from the SNP analysis are an important tool to assess which breeds will be relevant to use for crossing."
excerpt...NordGen coordinates a project with researchers from Denmark, Finland, Iceland and Norway, where DNA collected from Nordic dog breeds is analyzed on a so-called SNP chip. Results from SNP chips can be used to identify and quantify genetic variation between individuals and breeds. The novelty of the SNP chip technology compared to previous methods is that 170,000 genetic markers may be examined simultaneously. Some of these will be neutral whereas others are of great importance to the traits of interest (including disease characteristics). Molecular studies of dogs traditionally used a small number of neutral markers (typically <30). This joint Nordic cooperation provides extremely useful information in terms of finding areas of the genome causing certain genetic diseases and quantifying the degree of inbreeding and genetic variation within and between breeds. These results can be used to plan breeding of the Nordic dog breeds so that both the loss of genetic variation and the increase in inbreeding are reduced. The results will be used to answer questions such as 1) in which breeds should focus be on increasing the effective population size, 2) in which breeds should crossbreeding with individuals from other breeds be considered, and 3) which breeds should be used for crossing. In the long term, data can be used for selection against harmful alleles and for the maintenance of adaptive variation.
Low neutral genetic variability in a specialist puffin hunter: the Norwegian Lundehund.
Melis C1, Borg ÅA, Espelien IS, Jensen H.
First published: 18 September 2012
excerpt...
"low genetic variability in Lundehund was not surprising, given the two strong bottlenecks in the 1940s and the 1960s. The relatedness of Lundehund to other Nordic small spitzes should be investigated in the view of possible outcrossing."
Variant detection and runs of homozygosity in next generation sequencing data elucidate the genetic background of Lundehund syndrome
Cross-Breeding Is Inevitable to Conserve the Highly Inbred Population of Puffin Hunter: The Norwegian Lundehund
    Anne Kettunen, Marc Daverdin, Turid Helfjord, Peer Berg
PLOS
    Published: January 20, 2017
http://dx.doi.org/10.1371/journal.pone.0170039
http://journals.plos.org/plosone/article?id=10.1371/journal.pone.0170039
---
Breed Clubs:
We are listing sites for breed clubs with health or other information that might be helpful. Follow links below.
Norway: Norsk Lundehund Klubb
Sweden: Svenska Lundehundsällskapet
Sweden: Book - Lundehundboka: You can order the book by e-mailing name and address of Cecilia Obitz (utsiraz@gmail.com).
USA: Norwegian Lundehund Association of America
Finland: Suomen Lunnikoirayhdistys ry
---
---
Report Entry
---
User Feedback