From the BVA congress held in November 2016
At the Session offered on Thursday, November 17, 2016: Two paws forward, one paw back: are we making any progress on pedigree dog health? presentations were offered by Dr. Brenda Bonnett DVM PhD, CEO, International Partnership for Dogs and Nick Blayney BVSc MRCVS, Veterinary Advisor, The Kennel Club.
An article has been included in the December Issue of the Veterinary Record: Title: BVA congress: Improving the health of pedigree dogs: is enough being done?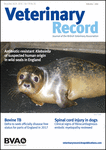 Abstract
"Controversies at Crufts in recent years have indicated there is still more to do to improve the health of pedigree dogs. Is the Kennel Club doing enough and can the UK learn from international experiences to help take matters forward? These questions were discussed during a session on pedigree dog health at the BVA Congress last month.
Georgina Mills reports"