Clumber Spaniel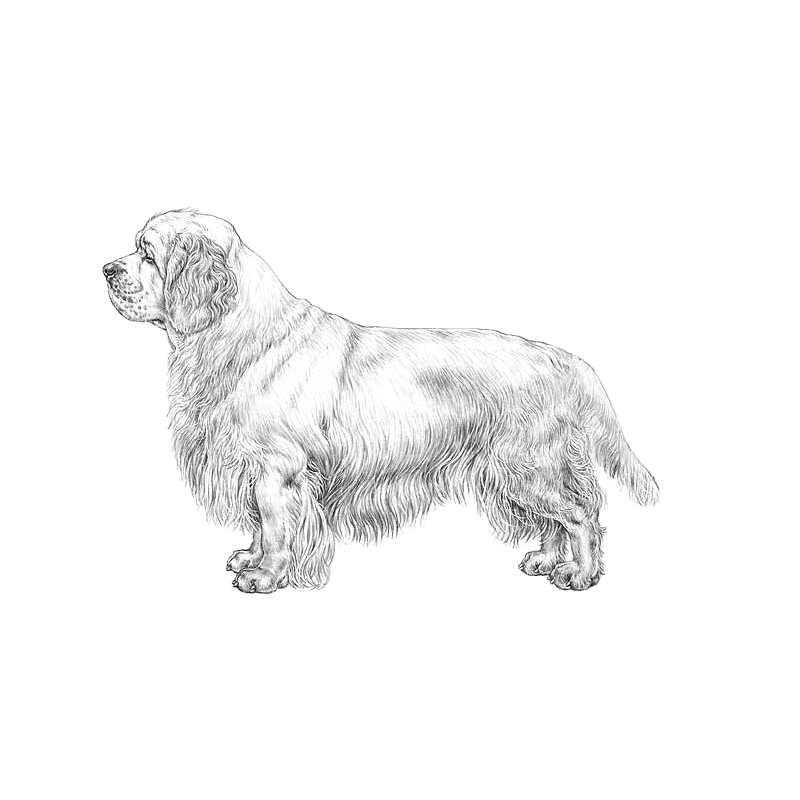 ---
---

Brief Description:

 

Said to have come in the first place from France more than 200 years ago, the Clumber was brought to Great Britain by the Duke of Newcastle and bred at his family home of Clumber Park in Nottinghamshire.

Source: The Kennel Club

---

Links to Breed Descriptions:

 

View more videos on AKC's YouTube Channel

---

Country of Origin and Parent Breed Club:

 

Country of origin: Great Britain
Parent breed club: Clumber Spaniel Club

---

Health and Well-Being:

 

Some sources of health information include:
National kennel clubs and breed clubs (see, e.g. Breeding/Health Strategy Documents, below)
Population-level statistics
Research articles
Breed club surveys
---
Breed Standards:
There are numerous breed standards.
The basis of breed/conformation shows is the judging of pedigree dogs against the 'Breed Standard', which is a picture in words that describes the range of features that are deemed appropriate for the breed.
Three of the major international standards are:
---
Breed-Specific Statistics:
Statistics - See Downloads for compiled registrations and health statistics and other breed specific documents.
Databases:
Canine Phenome Project: Results
General Health Statistics for participating dogs are listed. As of June 22, 2015 - 140 Participating
Categories listed include: Blood/Lymph Disorders; Cancer/Tumors; Cardiac Disorders; Dental Disorders; Ear Disorders; Endocrine System Disorders; Eye Disorders; Gastrointestinal Disorders; Hernia; Kidney or Urinary Tract Disorders; Liver Disorders; Neurologic/Muscular Disorders; Orthopedic Disorders; Reproductive Disorders; Respiratory Disorders; Skin/Dermatologic Disorders and Temperament Disorders
Data available includes: Litters; Trials; Results; Shows; Health; Champions; Imports; and Statistics: Result statistics; Show statistics; Health statistics; Breeding statistics; and other breed related information: Breeders Listings, Kennel names and Registrations
---
Breeding/Health Strategy Documents:
Health/Breeding Strategy Documents and Links:
The Kennel Club, UK: Breed Watch
Sweden: Breed-specific Breeding Strategies: (in Swedish) and/or English Summary
Finland: See Downloads
---
Breed-Specific DNA Tests:
The Kennel Club list of DNA tests available for each breed along with an indication as to whether the test is part of the Assured Breeder Scheme (recommended or required) and whether it is recorded on the Kennel Club registration database.
---
Other Breed-Specific Webpages:
Clumber Spaniel Health Surveys / Reports:
Outstanding historical information on the Clumber Spaniel!!! A must see for any Clumber enthusiast.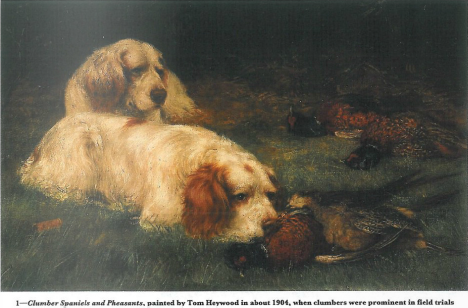 ---
Breed-Specific Research:
---
Breed Clubs:
We are listing sites for breed clubs with health or other information that might be helpful. Follow links below.
Australia: Clumber Spaniel League Victoria
The UK Clumber Seminar 2014 Clumber Spaniels in Australia contains heath information and the number of registration of litters from national ANKC registry: In Downloads; Original Source
Australian National Kennel Counsil - Extended Standard for the Clumber Spaniel: In Downloads; Original Source
Canada: The Clumber Spaniel Club of Canada
Finland:
France: SCC/ASSO: Breed Standard (FCI), Breed History, Temperament...
United States: Clumber Spaniel Club of America
Illustrated AKC Standard
Netherlands: Clumber Spaniel Club Nederland (CSCN)
CSCN - Race Specific Instructions
Sweden: SKK
Clumber Spaniel Klubben
Swedish Spaniel and Retriever Club
UK: The Kennel Club: Breed Information Pack
Original Source
- This Breed Health Plan has been developed to provide information on the current health status of the Clumber Spaniel and guidance / recommendations on breeding practice to assist with improvement on health issues. It has been produced by the Club's Health & Welfare Sub Committee and is approved by the Clumber Spaniel Club Committee.
The Plan includes registration numbers and analysis of breed health information.  
Italy: Club Italiano Spaniel (CIS)
---
---
User Feedback