Flat Coated Retriever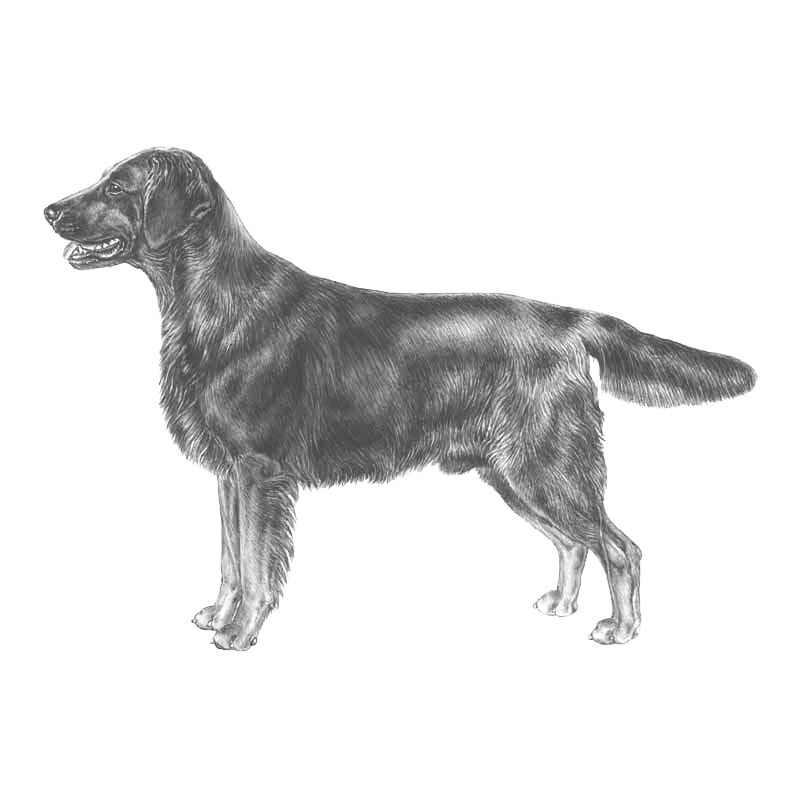 ---
---

Brief Description:

 

The Flat-Coated Retriever is a gundog breed originating from the United Kingdom. It was developed as a retriever both on land and in the water.

---

Links to Breed Descriptions:

 

AKC Video (link - https://youtu.be/ERB7Db6rWA4):

View more videos on AKC's YouTube Channel: https://www.youtube.com/user/AmericanKennelClub

 

Judging

A Guide to the Flat-Coated Retriever -- Illustrated Standard (American Kennel Club)

 


Article: Judging the Flat-Coated Retriever: Kurt Anderson

          1996 Breed Profile: https://www.crfcrc.org/articles/1996 Breed Profile.pdf 

 

Breed Profile: The Flat-Coated Retriever -- M.J. Nelson: GunDog Magazine. September 10th, 2012

 

---

Other Names for Breed:

 

Flatcoated retriever
Flat Coated Retriever (à poil plat)
Flat Coated Retriever (de pelo liso)

 

 

---

Country of Origin and Parent Breed Club:

 

Great Britain

 

---

Health and Well-Being:

 

Some sources of health information include:
National kennel clubs and breed clubs (see, e.g. Breeding/Health Strategy Documents, below)
Population-level statistics (see, e.g., Swedish Insurance Data, below)
Research articles
Breed club surveys
---
Breed-Specific Articles:
---
Breed Standards:
There are numerous breed standards.
The basis of breed/conformation shows is the judging of pedigree dogs against the 'Breed Standard', which is a picture in words that describes the range of features that are deemed appropriate for the breed.
Three of the major international standards are:
---
Breed-Specific Statistics:
1. Swedish Insurance Data
Breed-specific information on rates of disease and death from Agria Pet Insurance (Agria Djurförsäkring) is available for many breeds. This breed has information on Veterinary Care and Life Insurance.
2.
UK: KC: Population analysis of the Retriever (Flat Coated) breed
3. Finland: FKC Database Flat-Coated Retriever
---
Breeding/Health Strategy Documents:
Health/Breeding Strategy Documents and Links:
UK, The Kennel Club: Breed Watch
Sweden: Breed-specific Breeding Strategies: (in Swedish) and/ or English summary
Health Surveys/Reports
UK: Cambridge Flatcoat Retriever Cause of Death Survey (NOTE: 2-5-2018 - Currently unavailable - please check back later.)
    A website to record data about the causes of deaths in Flat-Coated Retrievers (UK Kennel Club registration required)
UK Health Reports
See AGM Health Reports: 2013 , 2014,  2015, 2016 2017...
Flatcoated Retriever Society health survey summary 2006: http://www.flatcoated-retriever-society.org/images/stories/health/health survey 2006.pdf
2017 AGM Health Report: http://www.flatcoated-retriever-society.org/images/liz17a.pdf
---
Breed-Specific DNA Tests:
The Kennel Club list of DNA tests available for each breed along with an indication as to whether the test is part of the Assured Breeder Scheme (recommended or required) and whether it is recorded on the Kennel Club registration database.http://www.dogwellnet.com/content/_/health-and-breeding/screening-tests/dna/dna-tests-for-use-in-breeding-decisions/the-kennel-club-breed-specific-dna-tests-upd-r234
NOTE:  there are currently no breed specific DNA tests for FCR.
---
Other Breed-Specific Webpages:
The Flat-Coated Retriever Foundation (US)
---
Breed-Specific Research:
Cancer Research - listings, summaries, reports - Flat-Coated Retriever Society
Including information on the most recent research project into Histiocytic Sarcoma in the FCR by Cambridge University: Brochure...
Health and Cancer: Flat-Coated Retriever Society of America: http://fcrsainc.org/health/index.html
UK Glaucoma research project: carried out at the Animal Health Trust: http://www.flatcoated-retriever-society.org/images/liz17b.pdf 
Current Studies
Genetic Diversity Testing for Flat-Coated Retrievers: UC Davis:
Canine Histiocytic Malignancies—Challenges and Opportunities
Katherine Kennedy, Rachael Thomas and Matthew Breen
Vet. Sci. 2016, 3(1), 2; doi:10.3390/vetsci3010002
Full Article: http://www.mdpi.com/2306-7381/3/1/2/htm
excerpt...

"While infrequent in the general dog population there is a particularly strong breed predisposition to HM in Bernese mountain dogs (BMD) and flat-coated retrievers (FCR), with odds ratios of 45.0 and 62.0 respectively"
Conclusions and Suggestions for Future Directions
"Despite several key advances in recent years, canine HM continues to represent a substantial clinical challenge due to the heterogeneity in disease presentation and consequent potential for misclassification, coupled with the absence of broadly effective treatment strategies. Continued efforts are needed to develop more sensitive and specific diagnostic markers that may be applied readily in routine clinical settings. This will require considerable investment in molecular characterization of HM at the genomic, transcriptional and translational level. Since translational dysregulation may offer options for targeted therapy, future studies should include quantitative assessment of members of the pathways highlighted by Boerkamp et al [5], particularly those controlling DNA replication and damage repair pathways. These efforts may also reveal the existence of molecular subtypes that explain some of the variation in tumor presentation and clinical behavior, particularly that evident between cases from the two breeds at greatest risk of HM. Molecular profiling will also offer avenues or defining targeted therapies that may offer improved prognoses both for canine and human patients. Treatment resistance and failure are common in canine HM, and the limited number of clinical trials has reduced the ability of the veterinary field to generate a widely accepted standard of care for these patients, despite reports of positive clinical responses in retrospective studies. The rarity of HS/DS in people has similarly stunted progress in the human field. Ultimately maximization of the ability to consider HM in context with its closest counterpart in human patients will be highly dependent on the ability to confirm the cellular origin of the canine disease, and to identify its underlying pathogenic mechanisms. This will determine the degree to which progress in the veterinary field may be translated back to human medicine, as a means to stimulate synergistic advances for these highly understudied diseases."
---
Breed Clubs:
We are listing sites for breed clubs with health or other information that might be helpful. Follow links below.
INTERNATIONAL

The International Working Flatcoated Retriever homepage -- Promoting the Working Gundog
http://workingflatcoatedretriever.com/
A content rich website with a treasure trove of articles by breed experts from through out the world on breed history, breeding, genetic diversity and more.
Sweden:  Flatcoated retrieverklubben: http://www.frk.nu/
US: Flat-Coated Retriever Society of America, Inc.: http://fcrsainc.org/
UK: Flatcoated Retiever Clubs in the UK: http://www.thekennelclub.org.uk/services/public/findaclub/breed/list.aspx?id=2046
       Flat-Coated Retriever Society: http://www.flatcoated-retriever-society.org/ 
       The Flatcoated Retriever Club of Scotland: http://www.flatcoat-scotland.com/
Finland: Finska flatcoated retrieverklubben rf: https://www.flatti.net/jarjesto/short-in-english/
---
---
User Feedback