German Shepherd Dog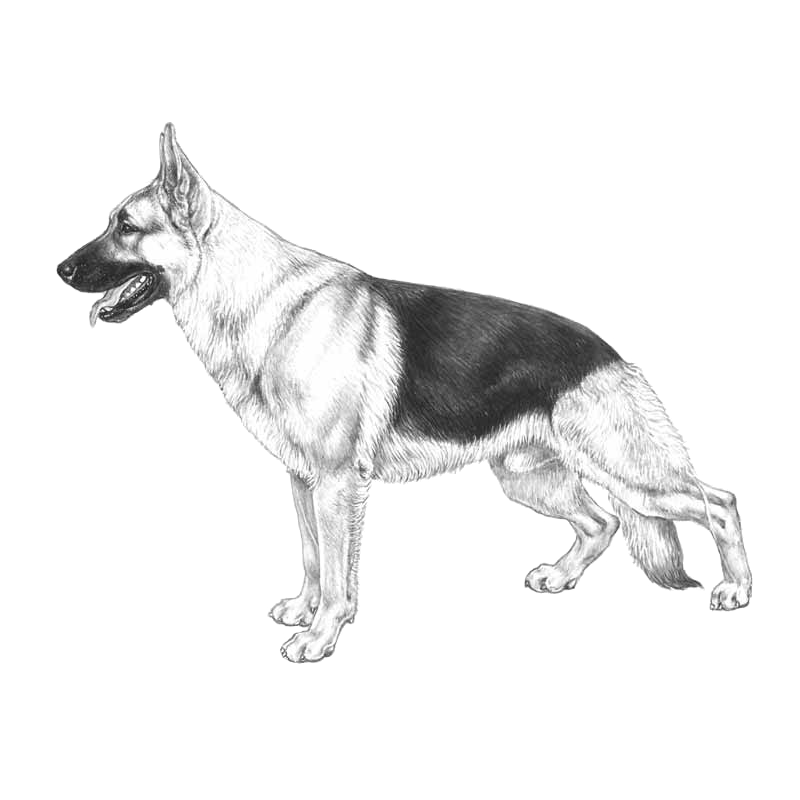 ---
---

Brief Description:

 

The German Shepherd Dog is medium-size, slightly elongated, powerful and well-muscled, with dry bone and firm overall structure. The German Shepherd Dog must be well-balanced (with strong nerves) in terms of character, self-assured, absolutely natural and (except for a stimulated situation) good-natured as well as attentive and willing to please. He must possess instinctive behaviour, resilience and self-assurance in order to be suitable as a companion, guard, protection, service and herding dog.

Source: http://www.fci.be/en/nomenclature/GERMAN-SHEPHERD-DOG-166.html

---

Links to Breed Descriptions:

 

See The German Kennel Club (VDH) for video (if available).
(Hint: your browser should be able to Translate to English, at least for text (e.g., right click in Google Chrome or Internet Explorer).)

http://www.vdh.de/welpen/mein-welpe/deutscher-schferhund-stockhaar

Video for this breed (if available) and other breed videos are available in full length here: www.meisterpetztv.de

 

 

AKC Video (link - https://youtu.be/mDJWNaAnC44😞

View more videos on AKC's YouTube Channel: https://www.youtube.com/user/AmericanKennelClub

 

 

SCC Video (link - https://youtu.be/Pb1arGdwBQY😞

View more videos on SCC's YouTube Channel: https://www.youtube.com/channel/UCKR90_uWp8dUNpGTfQ_y_Zw

 

---

Other Names for Breed:

 

German Shepherd Dog, long-haired
Tysk schäferhund, långhårig
German shepherd dog, Long and harsch outer coat
Schäferhund Langhår
 

---

 

German Shepherd Dog, short-haired
Tysk schäferhund, normalhårig
German shepherd dog, Double coat
Deutscher schäferhund
Berger allemand
Pastor alemán
Deutscher Schäferhund
Schäferhund Normalhår

 

---

Country of Origin and Parent Breed Club:

 

Germany
FCI: VDH: http://www.vdh.de/home/:
The VDH is the umbrella organisation for more than 168 membership organisations in the whole of Germany. Here you can find the contact details for all VDH organizations.

---

Health and Well-Being:

 

Some sources of health information include:
National kennel clubs and breed clubs (see, e.g. Breeding/Health Strategy Documents, below)
Population-level statistics (see, e.g., Swedish Insurance Data, below)
Research articles
Breed club surveys
---
Breed-Specific Articles:
Arguing about the (GSD) Standard(s)?
Author: Fred Lanting
excerpt...
"There is a World Union of GSD clubs (WUSV) to which the German Shepherd Dog Club of America (GSDCA) belongs. Nearly every country in the world that has a GSD club is a member, and the vast majority of those use the same Standard that the SV (international parent club responsible for the breed) in Germany does."
The German Shepherd Dog -- Articles by Louis Donald
The website contains in depth information on the breed; discussion of the breed's historical development, breed type as well as photo and anatomical illustrations. Breed History presentation: http://www.louisdonald.com/history-of-the-breed-in-photo.html
---
Breed Standards:
There are numerous breed standards.
The basis of breed/conformation shows is the judging of pedigree dogs against the 'Breed Standard', which is a picture in words that describes the range of features that are deemed appropriate for the breed.
Three of the major international standards are:
  AKC Breed Standard Video parts 1 & 2
---
Breed-Specific Statistics:
1. Swedish Insurance Data
Breed-specific information on rates of disease and death from Agria Pet Insurance (Agria Djurförsäkring) is available for many breeds.
This breed has information on Veterinary Care and Life Insurance.
2. Health testing: Orthopedic Foundation for Animals (OFA):
OFA Evaluations Source:
http://www.offa.org/stats.html
Date obtained: 2/4/2015
Updated OFA statistics for GSD's and other breeds are available @
https://www.ofa.org/diseases/breed-statistics
3. The (CHIC): German Shepherd Dogs: Test Requirements: https://www.ofa.org/recommended-tests?breed=GS
4:. Finland: Database: http://jalostus.kennelliitto.fi/frmEtusivu.aspx?R=166.2
5. UK: Demography and disorders of German Shepherd Dogs under primary veterinary care in the UK
---
Breeding/Health Strategy Documents:
Health/Breeding Strategy Documents and Links:
The Kennel Club, UK: Breed Watch
Sweden: Breed-specific Breeding Strategies: (in Swedish) and/ or English summary
Finland: German Shepherd Dog JTO  2014-2018: http://www.kennelliitto.fi/sites/default/files/attachments/jto/saksanpaimenkoira.pdf
Germany
German Shepherd Evaluation Tools from Schäferhundverein RSV2000 e.V.
ZG-Matrix for German Shepherd Dogs -- Sighting (Minimum age: 12 months) (English)
Regulations Downloads (German)
---
Breed-Specific DNA Tests:
The Kennel Club list of DNA tests available for each breed along with an indication as to whether the test is part of the Assured Breeder Scheme (recommended or required) and whether it is recorded on the Kennel Club registration database. http://www.dogwellnet.com/content/health-and-breeding/screening-tests/dna/dna-tests-for-use-in-breeding-decisions/the-kennel-club-breed-specific-dna-tests-upd-r234
---
Other Breed-Specific Webpages:
Some of the projects funded specifically focus on the causes (and prevention) of the following diseases:
Involvement by GSD Clubs from all over the British Isles: activities include:
A Breed Survey Scheme which takes place all over the country with full reports on surveyed dogs being published in the GSD National Magazine.
A Blood Screening Scheme to locate haemophiliac males, and through them the female carriers.
A Breed Database.
A Judge's Training Course
---
Breed-Specific Research:
Finland: University of Helsinki and Folkhälsan research
Hip Research: http://www.spl.fi/component/edocman/?view=document&id=73
Australian Research: Visualization of Genome Diversity in German Shepherd Dogs
Sally-Anne Mortlock, Rachel Booth, Hamutal Mazrier, Mehar S. Khatkar and Peter Williamson
Faculty of Veterinary Science, The University of Sydney, NSW, Australia.
---
Breed Clubs:
We are listing sites for breed clubs with health or other information that might be helpful. Follow links below.
INTERNATIONAL
World Union of GSD clubs (WUSV)
UK: The Kennel Club: German Shepherd Dogs: site lists 43 GSD breed clubs in the UK; health information and advice relevant to the breed.
Finland: Saksanpaimenkoiraliitto ry: http://www.spl.fi/
---
---
User Feedback