Pomeranian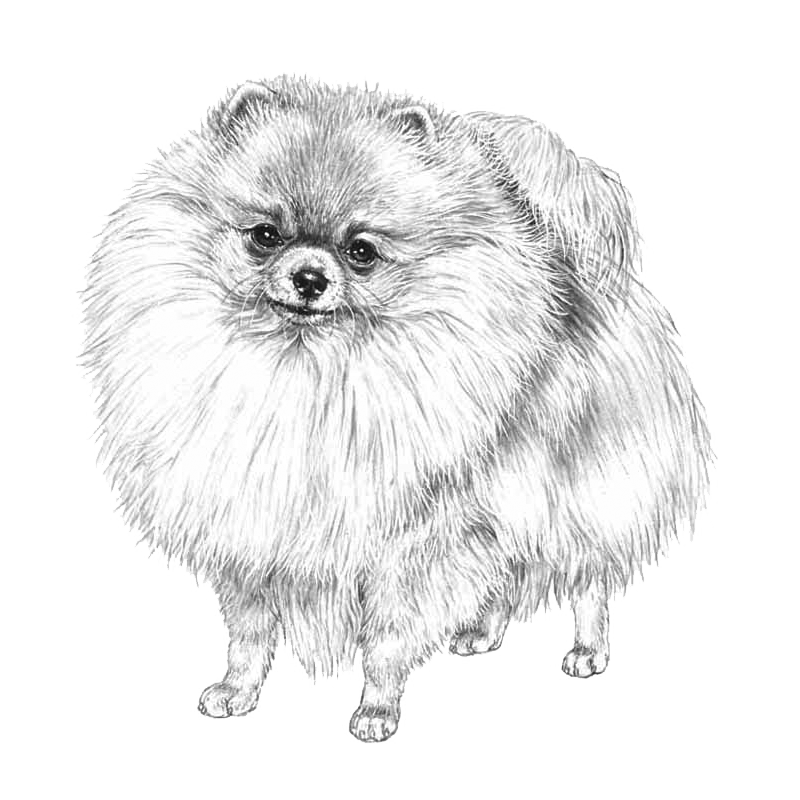 ---
---

Brief Description:

 

Though Britain is listed as the country of development of the Pomeranian, he is a Spitz-type dog descended from the much larger sled-hauling dogs of the Arctic. He was bred from the German Spitz before becoming known in the UK in 1870. In 1890, he entered the kennels of Queen Victoria, which popularised the breed, and the Pomeranian Club was formed the following year.

Source: http://www.thekennelclub.org.uk/services/public/breed/display.aspx?id=6163

---

Links to Breed Descriptions:

 

See: The German Kennel Club (VDH) for information and video (if available).
(Hint: your browser should be able to Translate to English, at least for text (e.g., right click in Google Chrome or Internet Explorer).)

http://www.vdh.de/welpen/mein-welpe/deutsche-spitze

 

AKC Video (link - https://youtu.be/FDPZyHuYHaM):

View more videos on AKC's YouTube Channel: https://www.youtube.com/user/AmericanKennelClub

---

Other Names for Breed:

 

German Spitz, Pomeranian
Deutscher Spitz/Zwerg
Deutscher Spitz/Zwergspitz
Spitz Allemand/Spitz Nain
Spitz Alemán/Spitz Enano
Spitz Tedesco Nano

---

Country of Origin and Parent Breed Club:

 

Country of Origin: Germany (German Spitz) - Verein für Deutsche Spitze e.V.

Breed development: UK - The Pomeranian Club UK

---

Health and Well-Being:

 

Some sources of health information include:
National kennel clubs and breed clubs (see, e.g. Breeding/Health Strategy Documents, below)
Population-level statistics (see, e.g., Swedish Insurance Data, below)
Research articles
Breed club surveys
---
Breed-Specific Articles:
---
Breed Standards:
There are numerous breed standards.
The basis of breed/conformation shows is the judging of pedigree dogs against the 'Breed Standard', which is a picture in words that describes the range of features that are deemed appropriate for the breed.
Three of the major international standards are:
---
Breed-Specific Statistics:
1. Swedish Insurance Data
Breed-specific information on rates of disease and death from Agria Pet Insurance (Agria Djurförsäkring) is available for many breeds.
This breed has information on Veterinary Care and Life Insurance.
2. Registrations Statistics
3. Health Surveys
---
Breeding/Health Strategy Documents:
Health/Breeding Strategy Documents and Links:
The Kennel Club, UK: Breed Watch
Sweden: Breed-specific Breeding Strategies: (in Swedish) and/or English Summary
Finland
Other Health-Related Information:
UK-KC:Points of concern for special attention by judges
Insufficient closure of the fontanelle:
     2. Additional health condition information which may be applicable to this breed or to Toy dogs
---
Breed-Specific DNA Tests:
The Kennel Club list of DNA tests available for each breed along with an indication as to whether the test is part of the Assured Breeder Scheme (recommended or required) and whether it is recorded on the Kennel Club registration database. http://www.dogwellnet.com/content/health-and-breeding/screening-tests/dna/dna-tests-for-use-in-breeding-decisions/the-kennel-club-breed-specific-dna-tests-upd-r234
---
Other Breed-Specific Webpages:
Database: Database German Spitz
Pedigree records; search Zwergspitz (as of 12.07.2015, 34753 Zwergspitz records, multiple countries/registries). This database includes records for other Spitz breeds (KüRZEL, ZWERGSPITZ, KLEINSPITZ, MITTELSPITZ, GROßSPITZ, WOLFSPITZ, JAPANSPITZ, VOLPINO ITALIANO, UNBEKANNT, GESAMT). Languages offered: English, Deutch, Nederlands
The Pomeranian Project: Historical information: Pomeranian Project is website dedicated exclusively to revealing the history, origin and development of the Pomeranian through careful research of original documents and primary source material. Facebook
---
Breed-Specific Research:
---
Breed Clubs:
We are listing sites for breed clubs with health or other information that might be helpful. Follow links below.
Australia: The Spitz Dog Club of Western Australia
Austria: Österreichischen Klub für Spitze und Spitzarten
Finland: The Finnish Toy Dog Association
Finand: Pienpystykorvat ry Kleinspitz & Pomeranian
France: Centrale Canine
France: Club Francais du Spitz Allemand et Italien
Germany: Verein für Deutsche Spitze e.V.
Breeding Regulations: The Association for German Spitz eV: includes the German Spitz in all its varieties
Ireland: The Irish Kennel Club Pomeranian Club Of Ireland contacts are listed on IKC's website.
Italy: The Italian Kennel Club (ENCI)
Italy: Club Italiano Spitz
Sweden: Swedish Kennel Club (SKK)
Sweden: Svenska Pomeranianklubben
Sweden: Svenska Spets - och Urhundklubben: Specialty club for FCI Group 5
UK: The Pomeranian Club UK
UK: South of England Pomeranian Club: Health Page
USA: American Pomeranian Club
---
---
User Feedback