Rottweiler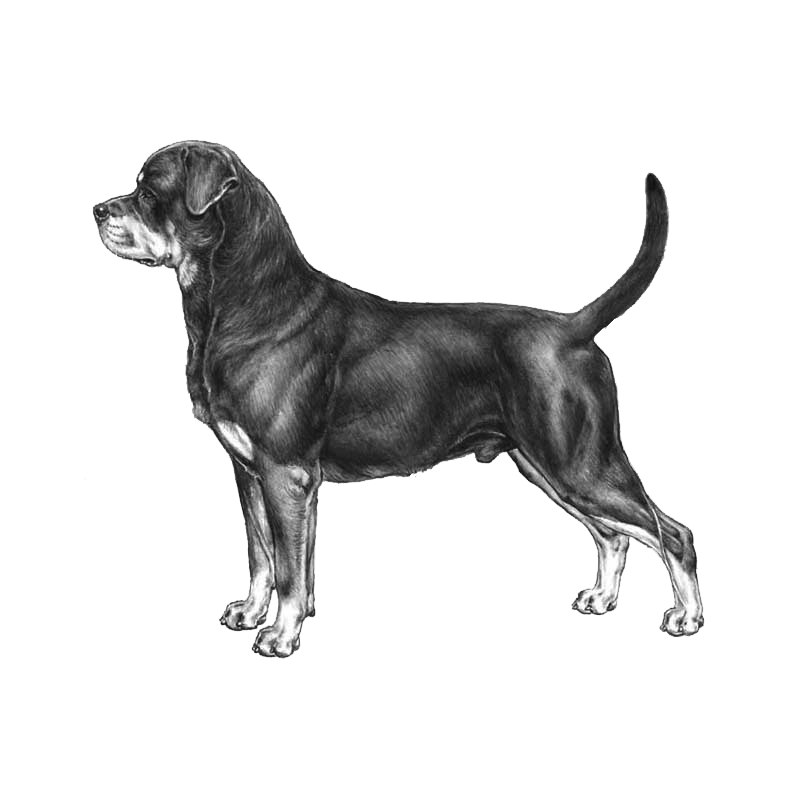 ---
These Mastiff-type dogs stem from animals taken to Germany by Roman soldiers as they marched across Europe. Used to guard livestock, they were either discarded as the cattle were eaten or were left to guard outposts, and many finished up in Switzerland while others reached southern Germany. They were especially known around the town of Rottweil, which for 1,800 years was a centre for livestock trading. The evolving dog became a butcher's dog, drover and draught dog.

The Rottweiler, which first appeared in Britain in 1936 and was shown at Crufts the following year, is an above average-sized, very agile, black-and-tan dog. Extremely strong and imposing, he is easily obedience trained and is, in fact, a dog that enjoys working. He has natural guarding instincts, but is not aggressive by nature. His expression is tranquil and kind, but when aroused, he will hold his own with any opponent. He is not a dog for the inexperienced and has been much maligned in recent years, when the breed became over-popular, and Rottweilers were often purchased to feed a macho image.

---

Brief Description:

 

He is a very active dog that needs plenty of exercise, but his smooth coat requires only short periods of regular grooming to keep it in the desired shining condition.

Source: http://www.thekennelclub.org.uk/services/public/breed/display.aspx?id=5137

---

Links to Breed Descriptions:

 

See: The German Kennel Club (VDH) for information and video (if available).
(Hint: your browser should be able to Translate to English, at least for text (e.g., right click in Google Chrome or Internet Explorer).)

http://www.vdh.de/welpen/mein-welpe/rottweiler

Video (link - https://youtu.be/1RVecYjNg7E😞

This and other breed videos are available in full length here: www.meisterpetztv.de

 

 

AKC Video (link - https://youtu.be/Nf6t-2H28no😞

View more videos on AKC's YouTube Channel: https://www.youtube.com/user/AmericanKennelClub

 

 

SCC Video (link - https://youtu.be/U09PCw3LnyA😞

View more videos on SCC's YouTube Channel: https://www.youtube.com/channel/UCKR90_uWp8dUNpGTfQ_y_Zw

 

---

Other Names for Breed:

 

 

 

---

Country of Origin and Parent Breed Club:

 

Country of origin: Germany
Parent breed club: Allgemeiner Deutscher Rottweiler-Klub e.V.: http://adrk.de/index.php/de/

---

Health and Well-Being:

 

Some sources of health information include:
National kennel clubs and breed clubs (see, e.g. Breeding/Health Strategy Documents, below)
Population-level statistics (see, e.g., Swedish Insurance Data, below)
Research articles
Breed club surveys
---
Breed-Specific Articles:
Many thanks to DWN content partner Barbara Thiel for sharing this article which was published in "Unser Rassehund", 09 / 2018!
Quote

 

Excerpt...

"A genuine Rottweiler stands for a high ideal. With its particular physique, locomotion and behavioural characteristics, such a dog is predestined for a fulfilled life with a family, gratifying results in utility dog and tracking dog trials and successful service as a rescue dog, a police dog or in another important role. Being able to lead such happy and productive lives depends on numerous criteria: dogs must be eager to work, but also relaxed and able to calm themselves quickly. They must be capable of learning, and they need social skills, strength, physical stamina, mental resilience and exceptional agility in young years and later in life. And they must have not traits which stand in the way of achieving this.

This brings us to the topic of the next two sections. Some anatomical characteristics are essential for the social behaviour, behaviour in action and versatility of the Rottweiler, but others are entirely incompatible with it. While this might initially sound like the beginning of a piece of architectural criticism, the anatomy of the Rottweiler's head is a rather critical issue for reasons which will be outlined below..."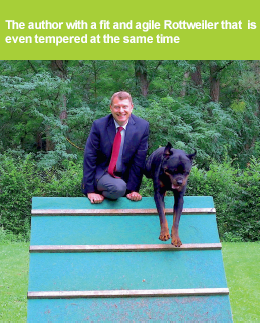 See the full article which offers information on valuable breed traits, comments on the "Redesigned Rottweilers with extreme characteristics..."  i.e. the impacts of trendiness supported by media and  human motivations to possess special, extravagant and innovative dogs. Prof. Dr. Peter Friedrich covers recent F.C.I. breed standard revisions adopted to clarify functional aspects sought in the breed (including the complex of traits of concern in the head area) and comments on application of the JLPP test and other factors that impact genetic diversity, health and welfare of this breed. A beautifully written, thought provoking article that provides not only insights into management of the Rottweiler breed  but serves to educate breed health managers and breeders for all breeds.
---
Breed Standards:
There are numerous breed standards.
The basis of breed/conformation shows is the judging of pedigree dogs against the 'Breed Standard', which is a picture in words that describes the range of features that are deemed appropriate for the breed.
Three of the major international standards are:
---
Breed-Specific Statistics:
1. Swedish Insurance Data
Breed-specific information on rates of disease and death from Agria Pet Insurance (Agria Djurförsäkring) is available for many breeds.
This breed has information on Veterinary Care and Life Insurance.
---
Breeding/Health Strategy Documents:
Health/Breeding Strategy Documents and Links:
The Kennel Club, UK: Breed Watch
Sweden: Breed-specific Breeding Strategies: (in Swedish) and/ or English summary
Finland
HEALTH SURVEYS
   Rotweiler health, health testing, conformation and breeding are discussed.
    • Interview with Roberta - Director of the Rottweiler Health Foundation (internal)
---
Breed-Specific DNA Tests:
The Kennel Club list of DNA tests available for each breed along with an indication as to whether the test is part of the Assured Breeder Scheme (recommended or required) and whether it is recorded on the Kennel Club registration database. http://www.dogwellnet.com/content/health-and-breeding/screening-tests/dna/dna-tests-for-use-in-breeding-decisions/the-kennel-club-breed-specific-dna-tests-upd-r234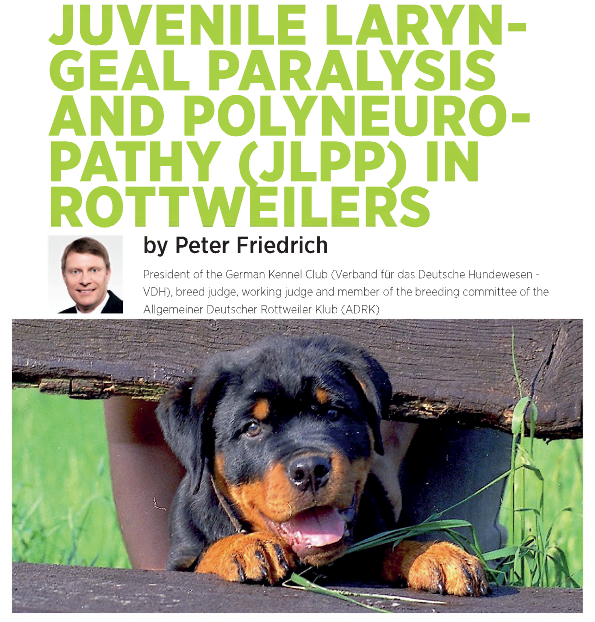 JLPP in Rottweilers - Dr. Peter Friedrich
This article discusses the disease, its genetics, and availability of DNA testing as well as breeding advice.
The article was made available in June of 2017 in Dogs Queensland The Queensland Dog World which can be accessed at...
The discovery of genetic causes of this disease (a monogenic autosomal recessive disorder) and subsequent development of a DNA test along with Dr. Friedrich's clear and concise explanation of genetics includes presentation of  graphics with text of  Pairing example 1 - homozygous normal X homozygous normal; Pairing example 2 - homozygous unaffected X heterozygous and finally Pairing example 3 - heterozygous X heterozygous. This article on JLPP clearly illustrates how this disease is produced and how it can be avoided which is very helpful to breeders who must implement a sound strategy to produce unaffected pups. JLPP - the DNA test has been recommended or required by breed clubs and appears to be one example of a solidly understood DNA test embraced by the breed fancy.
---
Other Breed-Specific Webpages:
ADRK World-Family: http://adrk.de/index.php/de/verein/adrk-world-family
---
Breed-Specific Research:
---
Breed Clubs:
We are listing sites for breed clubs with health or other information that might be helpful. Follow links below.
INTERNATIONAL
International Cooperation-partners of the ADRK e.V. – Members of the ADRK World-Family: Members of the ADRK World-Family
Germany: Allgemeiner Deutscher Rottweiler-Klub e.V.: https://adrk.de/index.php/en/
---
---
User Feedback