Brussels Griffon X Australian Terrier Crossbreeding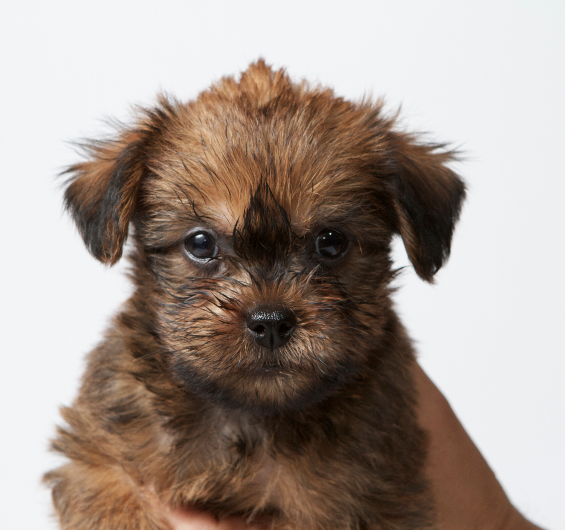 ---
Graussies -- Documentation for the Brussels Griffon X Australian Terrier crossbreeding is extensive.


Researchers hope that their findings will improve breeding guidelines and develop more sophisticated ways of screening so that fewer toy breed dogs develop Chiari-like malformation.

 

 

 

For a brief overview and introduction to Graussies see...
Researchers from the University of Surrey have continued their investigations into Chiari-like malformation, a disease in toy dogs.

Dated link from 2016: See Internet archives: https://web.archive.org/web/20160425040701/http://www.surrey.ac.uk/mediacentre/press/2016/scientists-cross-breed-improve-head-shape-toy-dogs-predisposed-painful

 

From the breeder's website, Henny van den Berg
This crossbreeding project is helping scientists understand more about CMSM and inheritance.

Excerpt: "Supported by Syringomyelia DNA Research as part of the Canine Chiari and Syringomyelia Genetic Study.
The Principal Investigators are Dr Zoha Kibar (Montreal University, Canada) and Dr Clare Rusbridge (Goddard Veterinary Group, UK). Other collaborators include Dr Simon Platt (Georgia University,USA), Dr Paul Manginers (Utrecht University, Netherlands) and many neurologists, vets, breeders and pet owners who have contributed to the genome project particularly in the UK, Australia, Netherlands and Finland.
The project is undertaken by Henny van den Berg and supervised by Clare Rusbridge and Penny Knowler."

 

 

See in depth documentation on the cross... Updated links 5-2020

 

 

Research

Clare Rusbridge: http://www.veterinary-neurologist.co.uk/Syringomyelia/
Grading Guidelines: http://www.veterinary-neurologist.co.uk/resources/bva-grading_guidelines.pdf

 

 

Related articles

 

Cavalier King Charles Spaniel
Syringomyelia: determining risk and protective factors in the conformation of the Cavalier King Charles Spaniel dog
Thomas J MitchellEmail author, Susan P Knowler, Henny van den Berg, Jane Sykes and Clare Rusbridge
 

Quantitative Analysis of Chiari-Like Malformation and Syringomyelia in the Griffon Bruxellois Dog
Knowler SP, McFadyen AK, Freeman C, Kent M, Platt SR, et al. (2014) Quantitative Analysis of Chiari-Like Malformation and Syringomyelia in the Griffon Bruxellois Dog. PLoS ONE 9(2): e88120. doi:10.1371/journal.pone.0088120


"This study aimed to develop a system of quantitative analysis of canine Chiari-like malformation and syringomyelia on variable quality MRI. We made a series of measurements from magnetic resonance DICOM images from Griffon Bruxellois dogs with and without Chiari-like malformation and syringomyelia and identified several significant variables. We found that in the Griffon Bruxellois dog, Chiari-like malformation is characterized by an apparent shortening of the entire cranial base and possibly by increased proximity of the atlas to the occiput. As a compensatory change, there appears to be an increased height of the rostral cranial cavity with lengthening of the dorsal cranial vault and considerable reorganization of the brain parenchyma including ventral deviation of the olfactory bulbs and rostral invagination of the cerebellum under the occipital lobes."
 

 

CANINE CHIARI-LIKE MALFORMATION AND SYRINGOMYELIA
Clare Rusbridge BVMS PhD DECVN MRCVS
 

Canine Chiari malformation and Syringomyelia -- international collaboration

University of Surrey: Investigating the pathogenesis, diagnosis, and treatment and genetic cause of canine Chiari Malformation and syringomyelia.

 

What is CM/SM?
Chiari-like malformation (CM) is characterized by a mismatch in size between the brain (which is too large) and the skull (which is too small). This may block the opening from the skull to the spine and alter the flow of cerebrospinal fluid (CSF) around the spinal cord. As a result, fluid-filled cavities called syrinxes can develop within the spinal cord, with the condition being called syringomyelia ("sear-ing-go-my-eelya") (SM). The condition has been shown to be inherited, although the mechanism of inheritance is not yet understood.

 

 

 

 


 
---
Report Entry
---
User Feedback