Great Britain - October 1st, 2018 - New Dog Breeding Regulation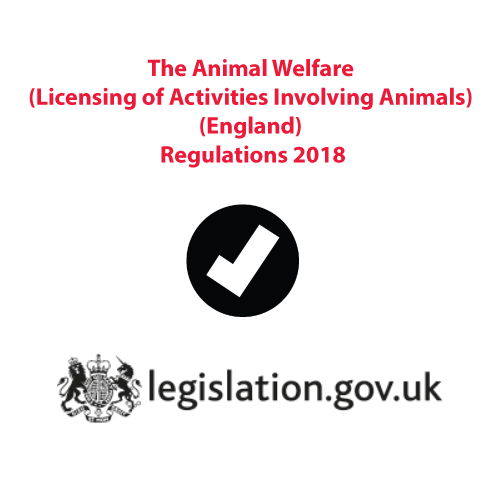 ---
England: October 1st 2018:  new Regulations replaced a number of existing licensing regimes involving activities related to dog ownership, management and dog breeding:

selling animals as pets
providing for or arranging for the provision of boarding for cats or dogs

hiring out horses

dog breeding

keeping or training animals for exhibition

For a look at the new regulations see...

Associated documents can be found here: https://www.legislation.gov.uk/uksi/2018/486/resources.  Among the associated documents are the "Explanatory Memorandum for THE ANIMAL WELFARE (LICENSING OF ACTIVITIES INVOLVING ANIMALS) (ENGLAND) REGULATIONS 2018: 2018 No. 486 " and the "Final Impact Assessment" which covers effects of these new regulations on the business and public sectors      - both documents provide insights into issues and inconsistencies with previously existing regulations - which are addressed to one degree or another by the new Regulations.

Statistics cited in the Final Impact Statement show how many licensed businesses are subject to the New Regulations. Dog Breeding comes in at 4,950.

Under the new Regulations it is hoped that the Risk-based assessments for determining the length of time between business license renewals (1 up to 3 years) will result "in a shift towards more favourable practices by businesses in order to move into the lower and medium risk categories" - thereby reducing costs.

 

 

 

The Kennel Club offers a summary of new regulations that could affect dog breeders/puppy sellers.

 

 

---

 

The Department for Food, Environment and Rural Affairs (DEFRA) published procedural guidance for reference by local authorities and to assist businesses in meeting the new requirements set out under the new Regulations. The procedural guidance and other guidance notes can be downloaded from Canine and Feline Sector Group's website.

For documents specific to management of dogs read:

Regulations- Animal Welfare (Licensing of Activities Involving Animals) 2018
Procedural Guidance for Local Authorities
Defra Guidance notes for Breeding Dogs
Defra Guidance Notes for Dog Boarding Kennels
Defra Guidance Notes for Home Boarding Dogs
Defra Guidance Notes for Day Care for Dogs
Selling Animals as Pets (Updated 12.11.18)

It is best to check these documents on the Canine and Feline Sector Group's website as the content they contain may be updated from time to time.

 

---

 

In the latest The BMJ Journals/Vet Record Emma Goodman Milne, BVSc, MRCVS , vet, author and animal welfare enthusiast writes about the impact of the new regulations under "My view" that it is Time to stop accepting 'normal for the breed'. (This article is available for purchase.)

In the abstract the author mentioned "the critical part is 'welfare of its offspring' as, until now, our laws in the UK did not protect future offspring. Many welfare stalwarts fought long and hard to get this element written into law, and it could have a massive impact on future generations of animals..."

 

---

 

There are a good many conditions addressed in Defra's Guidance notes for Breeding Dogs document. Higher standards of care as well as minimum standards for everything from property conditions/housing to feeding, socialization and more are covered. Further, "A business that meets the higher standards will be able to gain a 4 or 5 star rating in the Animals Activity Star Rating System and will qualify for a longer licence (e.g. two or three years as opposed to a one - year license) and thereby pay a lower licence fee."  Requirements and optional practices are laid out in detail (Higher Standards are at times delineated by blue and red text colors [see Quote] ).

The following, which clearly impacts welfare of current and future generations, was Interesting to note on page 32 - 33:

Quote

 

Guidance
 Licence holders must take all reasonable steps to ensure that the dogs are of good physical and genetic health, of acceptable temperament and fit for function (e.g. be able to see, breathe normally, and be physically fit and able to exercise freely).

Licence holders must be aware of any health risks that may be specific to that type or breed. Where appropriate veterinary advice on the suitability of an animal for breeding must be sought.

Dogs that have required surgery to rectify an exaggerated conformation that has caused adverse welfare, or require lifelong medication, must not be bred from.
Bitches that have had two litters delivered by caesarean section must not be bred from.
The prospective purchaser must be provided with written guidance on any relevant conformation issues and how to manage them in the relevant literature handed over with each sale.
Licence holders must not breed from stock which shows fear or aggression.

Higher standards

 Licence holders must test all breeding stock for hereditary disease using the accepted and scientifically validated health screening schemes relevant to their breed or type, and must carefully evaluate any test results as well as follow any breeding advice issued under each scheme, prior to breeding. No mating must take place if the test results indicate that it would be inadvisable in the sense that it is likely to produce health or welfare problems in the offspring and/or it is inadvisable in the context of a relevant breeding strategy.

No bitch will be intentionally mated when the Coefficient of Inbreeding of the puppies would exceed the breed average or 12.5% if no breed average exists as measured from a minimum five generation pedigree.

Surgery to correct exaggerated conformation must be reported to the appropriate organisation.

 

 

It remains to be seen whether welfare improvements will occur as a result of the new Regulations. Licensed business owners, breeders and local authorities who issue licences and conduct inspections will need to familiarize themselves with the criteria laid out in the most recent guidance documents.


ALSO SEE

DEFRA's publication -- Code of practice for the welfare of DOGS.

Code of Practice for the Welfare of Dogs.pdf (Internal)

Comments are welcome.

 

 

 

 

 

 

 

 

 

 

 

 

 

 

 

 
---
Report Entry
---
User Feedback