International Developments relative to issues in Brachycephalic dogs 1.0.0
---
About This File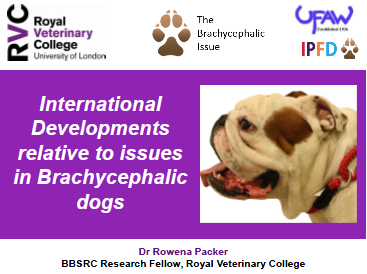 International Developments relative to issues in Brachycephalic dogs
Dr Rowena Packer
BBSRC Research Fellow, Royal Veterinary College
---
International Dog Health Workshops



What our 4th IDHW participants have said...

...Now, the real work begins!
 

Post-Meeting Resources
Plenary talks, Posters & Theme outcomes

Our Partners

Our mission is to safeguard the health and wellbeing of your pet with fully personalised, breed-specific care. Orivet was founded on the premise that each and every pet is unique, with its own set …

Suomen Kennelliitto (Finnish Kennel Club, in English) - Established in 1889, the Finnish Kennel Club is a nationwide expert organisation on canine matters. Its aim is to promote the breeding of ped…

"ASHGI is dedicated to the increase and diffusion of knowledge of genetics in the Australian Shepherd, and the inherited diseases from which it sometimes suffers. We envision serving all Aussies, …

The Dog Breeding Reform Group (DBRG) is an organisation dedicated to improving the health and welfare of dogs through responsible breeding. It was founded in 2013 and became a Charitable Trust in 2…

The World Small Animal Veterinary Association (WSAVA) is an association of associations. Its membership is made up of veterinary organisations from all over the world, which are concerned with comp…

The VDH - Verband für das Deutsche Hundewesen (German Kennel Club in English) is the foremost organisation representing the interests of dog-owners throughout Germany – the first address to find ou…

Raad van Beheer (The Dutch Kennel Club (DKC)) is the official kennel club of The Netherlands. Founded in 1902, it currently represents around 200 breed clubs with 150,000 members.   …

The European School for Advanced Veterinary Studies (ESAVS) is a non for profit organization registered in Luxemburg dedicated to the advancement of veterinary medicine for companion animals. ESAVS…

Our laboratory provides a complete testing service for veterinary surgeons to meet the diagnostic needs of your practice.     LABOKLIN is a proud sponsor of IPFD's Harmonization of…

Royal Canin is a global leader in pet health nutrition. In an industry that continues to adapt to popular trends in cat and dog food, our mission will remain the same; to constantly bring, through H…

ANTAGENE develops, produces and markets DNA tests for parentage certification and disease prevention in dogs and cats. The company is based near Lyon (France) and has a staff of 18 people. ANTAGENE…

FECAVA is the platform for the promotion of professional development and the representation of companion animal veterinarians in Europe. FECAVA strives to improve the veterinary care of pets, t…

Headquartered in Denver, Colorado, Morris Animal Foundation is the largest nonprofit foundation in the world dedicated to funding studies to improve and protect the health of companion animals and wi…

Agria is one of the world's leading animal insurers, specialising in small animal and equine insurance. Founded in Sweden over 120 years ago, Agria came to the UK in 2009 and is now a prominent feat…

Website: http://www.akc.org

The Veterinary Genetics Laboratory (VGL) at the University of California, Davis provides dog DNA testing services, including forensic genetic analyses, to a world-wide clientele. Validation and sta…

The French Kennel Club - SOCIÉTÉ CENTRALE CANINE (SCC) - was founded in 1881 as a non-profit organization by dog fanciers aiming to replenish native dog breeds and to bring in and establish foreign…

The Animal Health Trust exists to fight disease and injury in animals. Thanks to our pioneering work improving diagnosis, treatment and prevention, horses, dogs and cats are living healthier, happi…

Utilising the latest DNA technologies has enabled the VHLGenetics to grow exponentially since 1993.   Our experienced laboratories offer more than 1,000 routine DNA tests for animals, plant…

At Paw Print Genetics, our geneticists and veterinarians are committed to provide you and your dog unparalleled service with our large menu of tests, online account management and the highest accur…

The Irish Kennel Club promotes the responsible ownership and breeding of dogs throughout Ireland through education, registration, training and support schemes and events.   Website: http://…

The OFA was a Founding Partner of the International Partnership for Dogs; As of January 1, 2018, the OFA is no longer an IPFD Partner.    Founded and originally incorporated as a private no…

The Canadian Kennel Club (CKC) is the primary registry body for purebred dogs in Canada and currently recognizes 175 breeds. As a non-profit organization, the CKC is dedicated to encouraging, guidi…

CAG GmbH makes it easy to secure the genetic health of your four-legged friends. We provide the tools you need: a comprehensive offering of genetic tests, quick turn-around in the in-house accredit…

We're Genoscoper - the specialists in canine genetics and animal DNA testing. We offer solutions to help you make informed decisions about pet care and breeding, through comprehensive testing servi…

Pedigreed Breeds

The Heeler is an intelligent, eager-to-please fellow, with a love of people; he enjoys being with children because he likes joining in games.