Irish Red and White Setter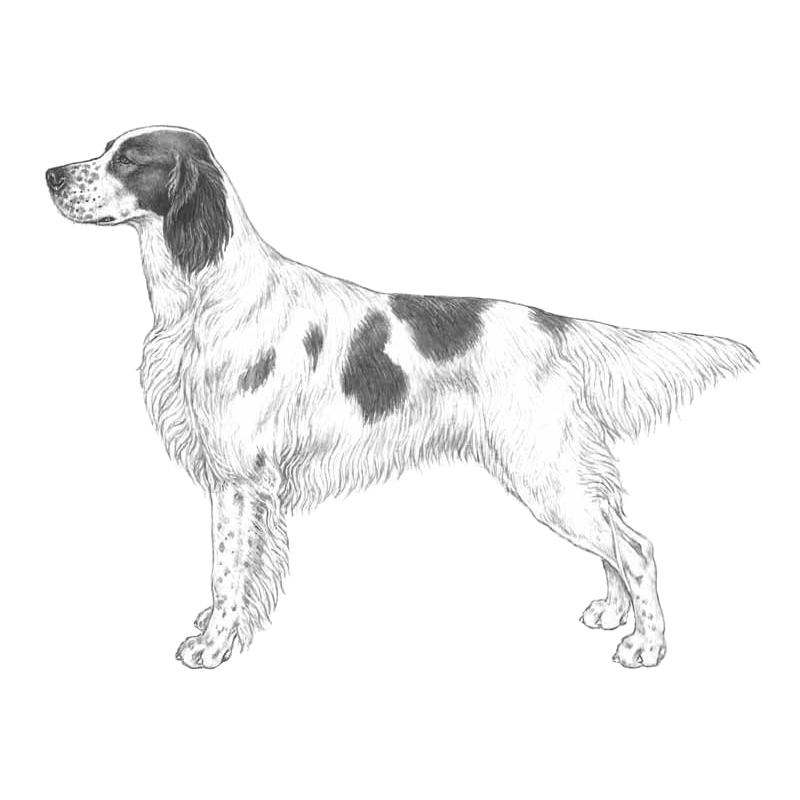 ---
---

Brief Description:

 

It is not well known outside of Ireland that there are two breeds of Irish Setters, but is fairly certain, that the Red and White Setter is the older of the two, and that judicious selective breeding evolved the solid red colour. Strong well balanced and proportioned without lumber; athletic rather than racy. Most acceptable companion and friend in the homes and the fields. The Irish Red & White Setter is bred primarily for the field.

Source: http://www.ikc.ie/dog-ownership/types-of-dog/breeds/native-breeds-of-ireland/native-irish-breed/51/

---

Links to Breed Descriptions:

 

See: The German Kennel Club (VDH) for information and video (if available).
(Hint: your browser should be able to Translate to English, at least for text (e.g., right click in Google Chrome or Internet Explorer).)

http://www.vdh.de/welpen/rasse/suche

Video (link - https://youtu.be/vRGypciOwpQ):

This and other breed videos are available in full length here: www.meisterpetztv.de

 

 

 

---

Other Names for Breed:

 

Irländsk röd och vit setter
Setter irlandais rouge et blanc
Setter irlandés rojo y blanco
Irischer Rot-Weisser Setter
Irsk Rød Og Hvit Setter

 

---

Country of Origin and Parent Breed Club:

 

Country of origin: Ireland

Irish Red and White Setter Club: https://www.irishredandwhitesetterclub.org/

---

Health and Well-Being:

 

Some sources of health information include:
National kennel clubs and breed clubs (see, e.g. Breeding/Health Strategy Documents, below)
Population-level statistics (see, e.g., Swedish Insurance Data, below)
Research articles
Breed club surveys
---
Breed-Specific Articles:
Outcross before it's too late? http://www.dogworld.co.uk/story.php/79941/2153/outcross_before_it_s_too_late_
By: Kevin Colwill
26/09/2012
The Irish Red and White Setter: A Very Noble Breed http://www.bbc.com/news/uk-northern-ireland-37383422
By David Wilson BBC News NI
18 September 2016
IPFD Facebook Post May 29, 2017
---
Breed Standards:
There are numerous breed standards.
The basis of breed/conformation shows is the judging of pedigree dogs against the 'Breed Standard', which is a picture in words that describes the range of features that are deemed appropriate for the breed.
Three of the major international standards are:
---
Breed-Specific Statistics:
1. Finnish Kennel Club Database: https://jalostus.kennelliitto.fi/frmEtusivu.aspx?R=330
---
Breeding/Health Strategy Documents:
Health/Breeding Strategy Documents and Links:
Health Surveys
---
Breed-Specific DNA Tests:
The Kennel Club list of DNA tests available for each breed along with an indication as to whether the test is part of the Assured Breeder Scheme (recommended or required) and whether it is recorded on the Kennel Club registration database: http://www.dogwellnet.com/content/health-and-breeding/screening-tests/dna/dna-tests-for-use-in-breeding-decisions/the-kennel-club-breed-specific-dna-tests-upd-r234
---
Other Breed-Specific Webpages:
OUTCROSS PROJECT
Irish Kennel Club: International Outcross Programme Irish Red and White Setters and Irish Red Setters:
NL:
Breeder's website:
IERSE SETTER CLUB: opgericht 14 november 2015
GB:
Breed History
Historical Paintings
---
Breed-Specific Research:
---
Breed Clubs:
We are listing sites for breed clubs with health or other information that might be helpful. Follow links below.
Ireland: Irish Red and White Setter Club: https://www.irishredandwhitesetterclub.org/
US: Irish Red and White Setter Association: http://www.irishredwhitesetterassociation.com/
UK: Irish Red & White Setter Club of Great Britain: http://www.irishredandwhitesetterclub.com/
Norway: Norsk Irsksetterklubb:  http://www.nisk.no/
Finland: Kanakoirakerho - Hönshundssektionen ry: http://www.kanakoirakerho.fi/
Sweden: Svenska Irländsk Setterklubben: https://www.sisk.se/
Netherlands: Ierse Setter Club: http://www.iersesetterclub.nl/
                        Ierse Rood-Witte Setterclub:  http://www.ierseroodwittesetterclub.nl/
---
---
User Feedback