For some time, pet obesity has been recognized as a crucial, widespread issue that impacts the health, welfare, and lifespan of dogs.
Earlier in 2019, following the 4th IDHW,  IPFD endorsed the Global Pet Obesity Initiative Position Statement, joining 24 International Veterinary Professional Organizations, including the American Veterinary Medical Association Board of Directors, British Small Animal Veterinary Association, Canadian Veterinary Medical Association, World Small Animal Veterinary Association, among others.
 
Pet obesity is a studied health and welfare issue that is, presumably, quite straightforward... and under control of owners to fix.  However, as for issues around human obesity, in reality the situation can be more complicated; and recent studies have examined some of the complexities, for people and their pets.  An IPFD collaborator, Prof. Peter Sandoe (University of Copenhagen), and others published a paper in 2014 on Canine and feline obesity: A One Health perspective that offers a broad coverage of the problem, why it is important, how the Human-Animal Bond impacts challenges, and, importantly, "Why we should care".  From the article:
"Recent years have seen a drastic increase in the rates of overweight and obesity among people living in some developed nations. There has also been increased concern over obesity in companion animals. In the latest article in Veterinary Record's series on One Health, Peter Sandøe and colleagues argue that the relationship between obesity in people and in companion animals is closer and more complex than previously thought, and that obesity should be treated as a One Health problem."  
Below, under Recent Research you will find articles that address specific challenges, including perception of obesity and inaccurate assessment of body conditions score (as a measure of obesity).  The evolution of obesity: from evolutionary advantage to a disease describes the historical perspectives and the current situation: "Obesity as a disease was first described by Hippocrates" ... and ... "in 1920's the Insurance Companies, in 1948 World Health Organisation and in 2013 both American Medical Association and The American Heart Association, American College of Cardiology and The Obesity Society recognized obesity as a disease."  As described above, this approach has also been taken in the veterinary world.  These acknowledgements are made with the goal of facilitating treatment, promoting research, and with an aim to curb this growing health and public health problem.

Obesity can cause or worsen many health conditions, and the risk is enhanced for certain breeds and types of pets.  Brachycephalic (flat-faced pets), already challenged in terms of respiratory function and heat regulation, are further compromised if overweight.  This can be viewed as not only a health problem, but also as a welfare problem - but many owners remain unaware.  See, e.g. Owners' perception of 'responsible dog ownership in our Blogs section.
Veterinarians can offer clients sound advice for management of their pet to optimize health.  Here, we'll feature work done by IPFD's collaborators as well as provide links to industry reports, research and educational tool kits which have been developed to assist owners and veterinary practices.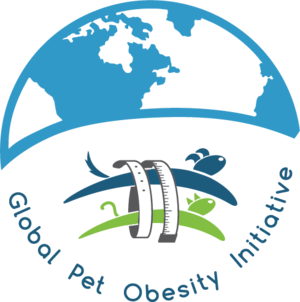 Check out articles, surveys and other important info at the Global Pet Obesity Initiative's website
+ see the 2019 Pet Owner Survey - An opportunity to contribute!
US Residents: would you like to participate in ongoing research into obesity?
The Association for Pet Obesity Prevention is conducting the 12th Annual National Pet Obesity Awareness Day Survey
This survey was opened to US residents on October 9, 2019. To participate, sign up here.  Veterinary practice/clinic participation in this organization's 2020 pet weight data collection survey next October is sought as well.