BOOK: Standards, Santé et Génétique chez le Chien | Standards, Health and Genetics in the Dog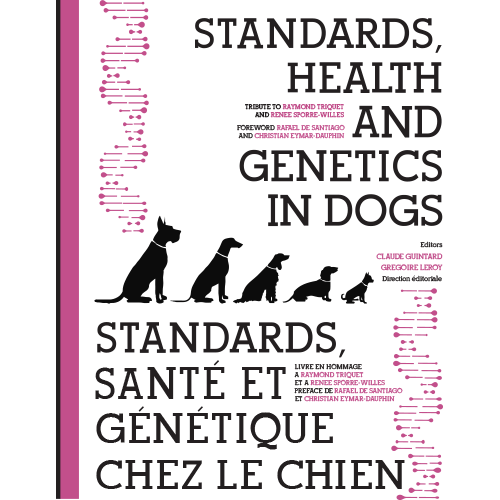 ---
The book,  Standards, Santé et Génétique chez le Chien / Standards, Health and Genetics in the Dog was created by the  Société Centrale Canine (SCC) in collaboration with the Fédération Cynophile Internationale (F.C.I.) and the Swedish Kennel Club (SKK).

Under the direction of Claude Guintard and Grégoire Leroy, the publication was presented as a tribute to Mrs. René Sporre-Willes and Mr. Raymond Triquet, longstanding chairs of the F.C.I.'s the Standards Commission, at the Third IPFD Dog Health Workshop held in Paris from April 21 to 23, 2017.  

Standards, Santé et Génétique chez le Chien / Standards, Health and Genetics in the Dog presents information from the world of dogs which can be applied in service to canine and human health and well-being. This work includes contributions by veterinarians, researchers, and dog-theorists who offer insights into the development of breed standards as well as the incredible advances in molecular genetics.

We at DogWellNet are delighted to be able to present the content from this book's 396 pages which includes 20 texts in English and in French distributed in two large chapters.

The book's Table of Contents (TOC-Standards, Santé et Génétique chez le Chien-Standards, Health and Genetics in Dogs) is available to DWN guests as well as DWN members.

DWN members will have access to all of the book's texts available in DWN's Downloads section.

Over the coming year we will feature texts from the book in DWN articles which will be accessible to DWN's members as well as guests.

We would like to thank the book's producers and  authors for their exceptional knowledge, extraordinary insights and for their willingness to share their expertise with  people who are a part of the international dog community.

 

---

 

A PRE-PRESENTATION article (in French) written by Claude Guintard & Grégoire Leroy is available...

Excerpts (translated using google translate)...

CHAPTER I - The Standards

"The drafting of the breed standards, keystone of the breeding canine, is a delicate exercise. Every standard must overcome a contradiction. The breed standards, guardians of characteristics of the breed, is opposed to an evolution likely to drift towards improvement of the aesthetics of the breed or to respond to a newly perceived need..."

CHAPER II - Health and Genetics

"The second chapter constitutes a remarkable state of the art in this field. In advance, are recalled and discussed the concept of race, as well as the methods of selection and their consequences up to the relatively recent introduction of molecular approaches."

 

---

Remarkable and inspiring! A must read.

---

BOOK: Standards, santé et génétique chez le chien | Standards, Health and Genetics in the Dog

- 396 pages -
ISBN: 978274669-673-0

A limited number of copies of this book were published in 2017 by the  Publishing house: Société Centrale Canine -- 155 avenue Jean Jaurès / 93535 AUBERVILLIERS Cedex.  Published books were distributed to participants in the 3rd International Dog Health Workshop. The book is not commercially available at this time.
---
Report Entry
---
User Feedback