General Information
AskUs@pawprintgenetics.com
509-483-5950 Toll Free:1-855-202-4889 (USA and Canada Only)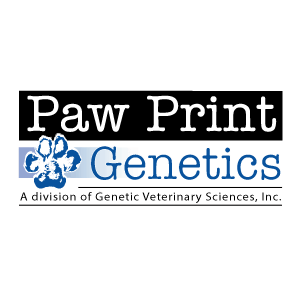 People
Lead Veterinarian Profile
PhD, DVM, DACVP
DMV; MSc Genetics, BS zoology
Quality Indicators - GTP
Other Recognized Accreditation
PPG has developed internal standards and guidelines, SOPs and validation documents based on the American College of Medical Genetics and Genomics and the College of American Pathologists. We have more than 250 SOPs pertaining to our test offerings. These SOPs are in place for general laboratory practices, and for all individual tests.
Other Parentage Testing Details
We use a proprietary set of 99 highly polymorphic markers for parentage assessment.
Quality Indicators - Procedures/ Services
Laboratory reports, Canine Genetic Health Certificate?, and trait certificates with detailed results, including interpretations and recommendations. Disease report results are reported as normal, carrier, and at-risk (affected)
Paw Print Genetics has a strict privacy policy and will only share results with the owners/co-owners or veterinarians listed on the account or on the individual dogs in the customers? accounts. With permission, we will send results to The Kennel Club of the UK.
Laboratory Mishandling Protocol
Quality Assurance and Issue Resolution
askus@pawprintgenetics.com
Paw Print Genetics provides pre-test and post-test genetic counseling.
Research
Internal ethics and scientific review board consisting of veterinarians, PhD geneticists and staff members representing the laboratory and customer care.
Refereed Publications list
Only relevant publications are shown. Shaffer LG, Ramirez CJ (2014) Genetic Carrier Screening in Domestic Dog Breeds. J Vet Med Res.1:1004-1005. Shaffer LG, Ramirez CJ, Sundin K, Carl C, Ballif BC (2015) Genetic screening and mutation identification in a rare canine breed, the Drentsche patrijshond. Vet Rec Case Rep. 3:e000185. Shaffer LG, Ramirez CJ, Sundin K, Connell LB, Ballif BC (2016) Genetic screening and mutation identification in a rare canine breed, the Cesky fousek. Vet Rec Case Rep. 4:e000346. Shaffer LG, Ramirez CJ, Phelps P, Aviram M, Walczak M, Kahila Bar-Gal G, and Ballif BC (2017) An International Genetic Survey of Breed-specific Diseases in Working Dogs from the United States, Israel and Poland. Cytogenet Genome Res. 153:198-204. Ramirez CJ, Carl C, Ballif BC, Shaffer LG (2017) Importance of standards and guidelines for veterinary genetic laboratory services. JAVMA 250:747. Ballif BC, Ramirez CJ, Carl CR, Sundin K, Krug M, Zahand A, Shaffer LG, Flores-Smith H (2018) The PMEL Gene and Merle in the Domestic Dog: A Continuum of Insertion Lengths Leads to a Spectrum of Coat Color Variations in Australian Shepherds and Related Breeds. Cytogenet Genome Res DOI: 10.1159/000491408