Well, it's been 10 weeks... and I've learned quite a lot. I hope you have, too! As my project comes to an end, Nina and I wanted to give our viewers a big thank you. I hope you enjoyed this blog series and feel more confident about what your role is in solving antimicrobial resistance (AMR). We would also like to extend a huge thank you to the Skippy Frank Fund who sponsored this entire project, and a thank you to Dr. Jason Stull and Dr. Brenda Bonnett for being wonderful mentors every step of the way.
It is important to keep in mind that science is an ever-changing field that is constantly updated with new material. For example there's a new study that just came out suggesting that not finishing a course of antibiotics may not cause resistance, which is contrary to the current belief. Here is the link to this article if you would like to read more about it. Even though this blog is over, I hope that you continue your AMR education as new scientific data arises. 
To complete my summer project, I have constructed a poster that I will be presenting at The Ohio State University College of Veterinary Medicine's Research Day.
Take a look!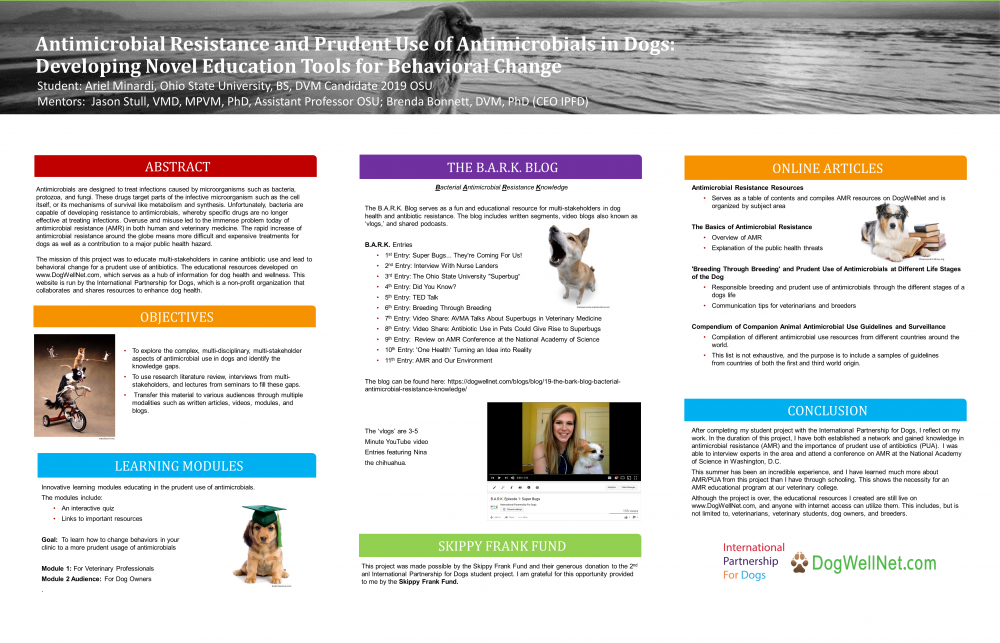 Here is the downloadable PDF version:
Be sure to keep checking www.DogWellNet.com for more information on dog health and wellness!