German Pinscher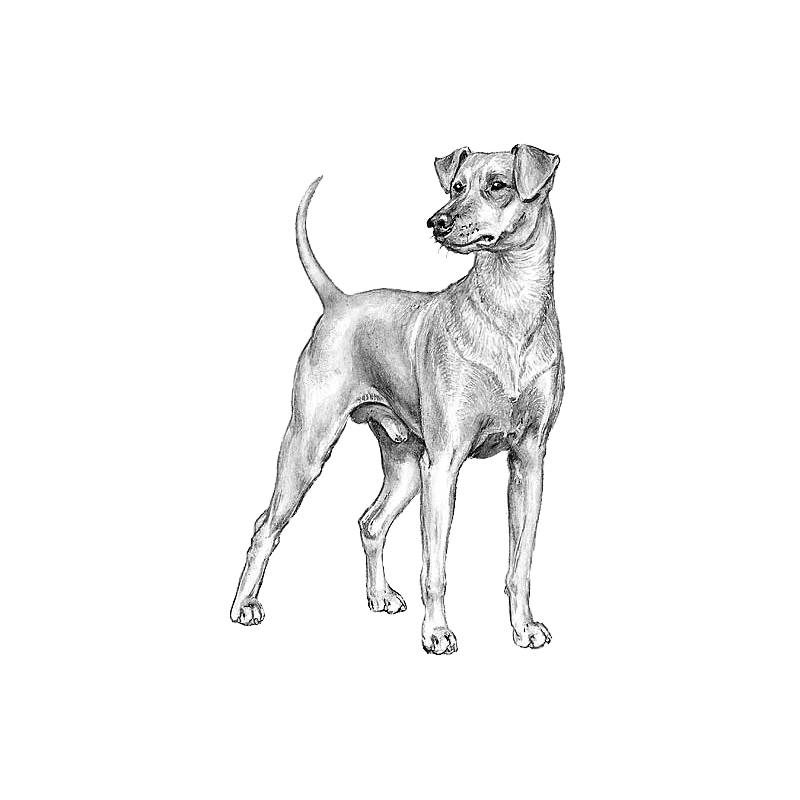 ---
---

Brief Description:

 

The German Pinscher is a medium-sized dog, usually weighing between 25–45 pounds (11–20 kilograms) and typically 17–20 inches (43–51 centimetres) in height, with a short coat. Colors for this breed include black and rust, red, fawn, blue and tan. The ideal German Pinscher is elegant in appearance with a strong square build and moderate body structure, muscular and powerful endurance and agility. For all countries where the Fédération Cynologique Internationale standard applies, only black and rust and solid red are allowed colors. Colors that became extinct during the world wars of the twentieth century include solid black, salt-and-pepper, and harlequin.
Source: https://en.wikipedia.org/wiki/German_Pinscher

---

Links to Breed Descriptions:

 

See: The German Kennel Club (VDH) for information and video (if available).
(Hint: your browser should be able to Translate to English, at least for text (e.g., right click in Google Chrome or Internet Explorer).)
http://www.vdh.de/welpen/mein-welpe/deutscher-pinscher
Video (link - https://youtu.be/A5TKsMm2l6k):

This and other breed videos are available in full length here: www.meisterpetztv.de

---

Other Names for Breed:

 

Pinscher
Pinscher allemand
Pinscher Alemán
Deutscher Pinscher

---

Country of Origin and Parent Breed Club:

 

Country of origin: Germany
Parent breed club: Pinscher-Schnauzer-Klub 1895 e. V.

---

Health and Well-Being:

 

Some sources of health information include:
National kennel clubs and breed clubs (see, e.g. Breeding/Health Strategy Documents, below)
Population-level statistics (see, e.g., Swedish Insurance Data, below)
Research articles
Breed club surveys
---
Breed-Specific Articles:
This article contains an overview of the German Pinscher X Schnauzercrossbreeding project which was initially approved by the Finnish Kennel Club in 1996, including a Comparison between purebred and crossbred Pinschers in Finnish Mental Tests 2001-2015.
---
Breed Standards:
There are numerous breed standards. The basis of breed/conformation shows is the judging of pedigree dogs against the 'Breed Standard', which is a picture in words that describes the range of features that are deemed appropriate for the breed. Three of the major international standards are:
---
Breed-Specific Statistics:
1. Swedish Insurance Data
Breed-specific information on rates of disease and death from Agria Pet Insurance (Agria Djurförsäkring) is available for many breeds.
2. Statistics
German Pinscher Breed Registration Statistics - Multiple KCs: See Downloads
3. Databases:
---
Breeding/Health Strategy Documents:
Health/Breeding Strategy Documents and Links:
The Kennel Club, UK: Breed Watch
Sweden: Breed-specific Breeding Strategies: (in Swedish) and/ or English summary
Finland:
JTO

Breed Specific Breeding Strategy (English)
This document contains information on the worldwide population of German Pinschers as well as a thorough analysis of the breed's management in Finland and elsewhere.  Breeding objectives, health, temperament and working abilities are addressed providing exceptional insights into the nature of the German Pinscher breed and commitment to seeing to its welfare on the part of those who appreciate these dogs.  A MUST read for German Pinscher fanciers! Many thanks go to  Karoliina Suomalainen and Katariina Maki for sharing this outstanding translation with DogWellNet.
Health Surveys:
---
Breed-Specific DNA Tests:
The Kennel Club list of DNA tests available for each breed along with an indication as to whether the test is part of the Assured Breeder Scheme (recommended or required) and whether it is recorded on the Kennel Club registration database: http://www.dogwellnet.com/content/_/health-and-breeding/screening-tests/dna/dna-tests-for-use-in-breeding-decisions/the-kennel-club-breed-specific-dna-tests-upd-r234
---
Other Breed-Specific Webpages:
UK: National German Pinscher Club
International: International Schnauzer Pinscher Union Member Clubs
              
---
Breed-Specific Research:
Research Studies: Optigen Cataract Study Information
        
---
Breed Clubs:
We are listing sites for breed clubs with health or other information that might be helpful. Follow links below.
Germany: Pinscher-Schnauzer-Klub 1895 e. V.
USA: The German Pinscher Club of America
USA: CHIC: German Pinscher
USA: OFA Search
Finland: Pinserit Ry / Finnish German Pinscher Club
Sweden: SVENSKA SCHNAUZER PINSCHERKLUBBEN
UK: The German Pinscher Club
---
---
Report Entry
---
User Feedback