Rhodesian Ridgeback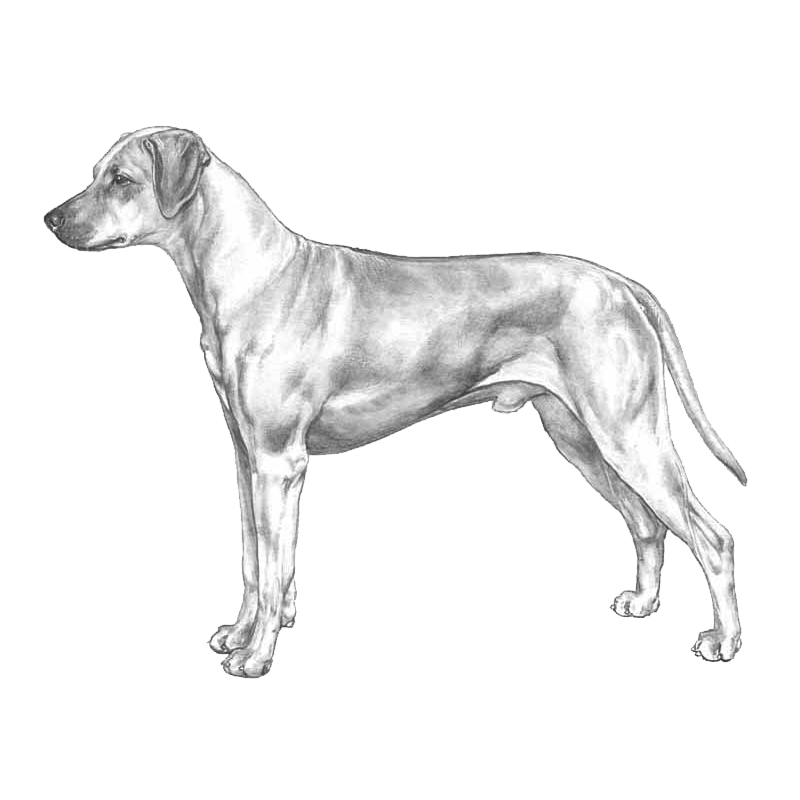 ---
---

Brief Description:

 

The Rhodesian Ridgeback is a dog breed developed in Southern Africa. Its European forebears can be traced to the early pioneers of the Cape Colony of southern Africa, who crossed their dogs with the semi-domesticated, ridged hunting dogs of the Khoikhoi.

---

Links to Breed Descriptions:

 

The Rhodesian Ridgeback Illustrated Standard (AKC): The Rhodesian Ridgeback Club of the United States

 

 

AKC Video (link - https://youtu.be/7-sSuu8DnOQ):

View more videos on AKC's YouTube Channel: https://www.youtube.com/user/AmericanKennelClub

 

 

See: The German Kennel Club (VDH) for information and video (if available).
(Hint: your browser should be able to Translate to English, at least for text (e.g., right click in Google Chrome or Internet Explorer).)

http://www.vdh.de/welpen/mein-welpe/rhodesian-ridgeback

Video (link - https://youtu.be/kfsA5_Etbh4):

This and other breed videos are available in full length here: www.meisterpetztv.de

 

 

 

---

Other Names for Breed:

 

Chien de Rhodésie à crête dorsale
Perro crestado rodesiano

 

 

---

Country of Origin and Parent Breed Club:

 

 

 

---

Health and Well-Being:

 

Some sources of health information include:
National kennel clubs and breed clubs (see, e.g. Breeding/Health Strategy Documents, below)
Population-level statistics (see, e.g., Swedish Insurance Data, below)
Research articles
Breed club surveys
---
Breed-Specific Articles:
---
Breed Standards:
There are numerous breed standards.
The basis of breed/conformation shows is the judging of pedigree dogs against the 'Breed Standard', which is a picture in words that describes the range of features that are deemed appropriate for the breed.
Three of the major international standards are:
---
Breed-Specific Statistics:
1. Swedish Insurance Data
Breed-specific information on rates of disease and death from Agria Pet Insurance (Agria Djurförsäkring) is available for many breeds.
This breed has information on Veterinary Care and Life Insurance.
a. Sweden: Specialklubben Rhodesian Ridgeback Sverige (SRRS)
2. Finland: Database: Rhodesian Ridgeback:  http://jalostus.kennelliitto.fi/frmEtusivu.aspx?R=146
Finnish Ridgeback Association Statistics: http://www.ridgeback.fi/10 
---
Breeding/Health Strategy Documents:
Health/Breeding Strategy Documents and Links:
The Kennel Club, UK: Breed Watch
Sweden: Breed-specific Breeding Strategies: (in Swedish) and/ or English summary
Finland: JTO - Breeding Strategy: (in Finnish)
Finland Ridgeback - Association: Genetic testing: http://www.ridgeback.fi/88
      4. US: CHIC: http://www.caninehealthinfo.org/brdreqs.html?breed=RR
---
Breed-Specific DNA Tests:
The Kennel Club list of DNA tests available for each breed along with an indication as to whether the test is part of the Assured Breeder Scheme (recommended or required) and whether it is recorded on the Kennel Club registration database.http://dogwellnet.com/content/health-and-breeding/screening-tests/dna/dna-tests-for-use-in-breeding-decisions/the-kennel-club-breed-specific-dna-tests-updated-march-2015-r234/
---
Other Breed-Specific Webpages:
Rhodesian Ridgeback World Congress 2016
See the Topics and Speakers

The Rhodesian Ridgeback World Congress took place in Sweden on June 28 - June 30, 2016!
AN INTERNATIONAL EVENT
We hope that even those who were not able to attend the congress, can benefit by reading the congress program and presentations.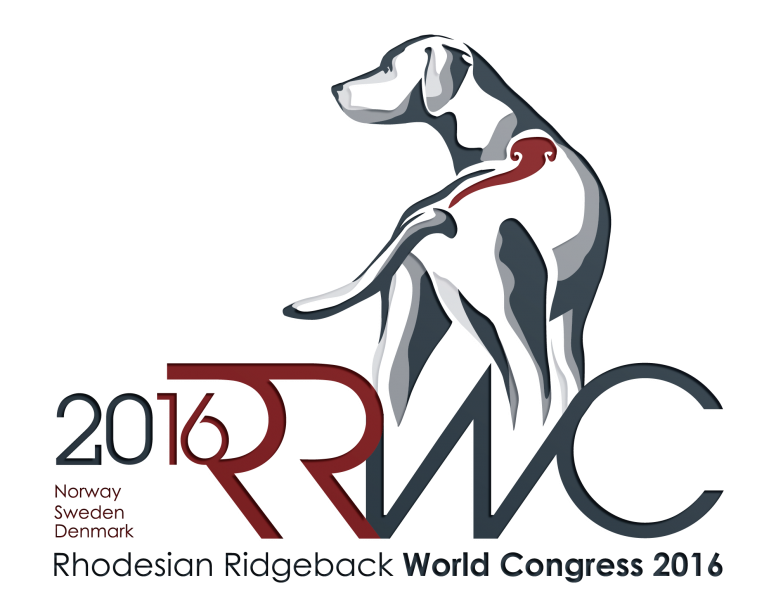 PRESENTATIONS from RRWC (internal DWN links - provided for records retention purposes)
---
---
Breed-Specific Research: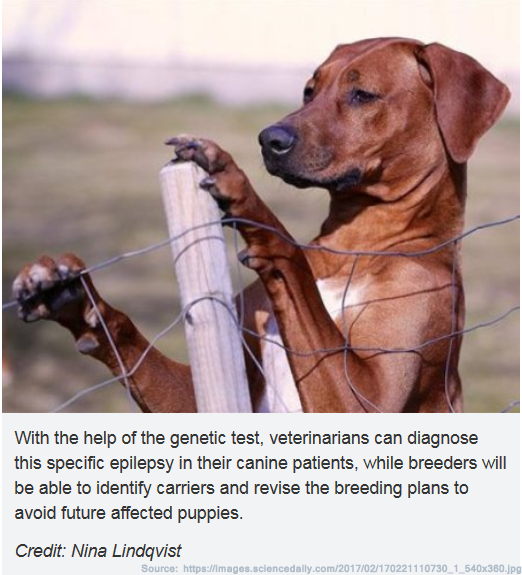 Researchers & Dogs helping in study of human disease! University of Helsinki. "Significant epilepsy gene discovery in dogs." ScienceDaily. ScienceDaily, 21 February 2017. <www.sciencedaily.com/releases/2017/02/170221110730.htm>.
The research publication in full is available at: http://www.pnas.org/content/early/2017/02/17/1614478114.full
Significance
"Comprehensive clinical, neurological, and genetic examinations characterized a generalized myoclonic epilepsy syndrome with photosensitivity in young Rhodesian Ridgeback dogs. The average age of onset of seizures was 6 mo. Genetic analyses revealed a defective DIRAS family GTPase 1 (DIRAS1) gene and protein. DIRAS1 is widely expressed in the brain and has been suggested to regulate acetylcholine release and play a role in neurodevelopment. This study reveals a candidate gene for human myoclonic epilepsies, and a translational model to further elucidate the role of DIRAS1 in neurotransmission and neurodevelopment, and its modulation as a therapeutic option in common epilepsy."
---
Breed Clubs:
We are listing sites for breed clubs with health or other information that might be helpful. Follow links below.
US: The Rhodesian Ridgeback Club of the United States: http://www.rrcus.org/
Sweden: Specialklubben Rhodesian Ridgeback Sverige: http://srrs.org/
Finland: Suomen Ridgeback - yhdistys ry: http://www.ridgeback.fi/
Statistics: http://www.ridgeback.fi/10
---
---
User Feedback